Growing old is inevitable for all of us, and unfortunately, with age, our body takes its toll and becomes a victim of wear and tear.
This, in turn, can cause many discomforts and pains and aches, which seems to particularly like to picture us during the evening when trying to sleep.
With this in mind, a good positioning pillow can provide much sought-after stress relief and pain relief, along with a comfortable sleeping position to ease all your distresses.
---
The Function of a Positioning Pillow
The name of this pillow says it all. A positioning pillow has the main function of providing you with the best sleeping or sitting position to improve your posture, reduce pain and pressure, and improve relaxation and comfort.
---
Benefits of Positioning Pillows for Elderly
There are just so many benefits to a positioning pillow of every kind;
A unique shape to comfort and support you into a more soothing and relaxing sleep.
It can prevent bedsores and ulcers.
Excellent as a rehabilitation aid after surgery or an injury.
Great as comfort-enhancing aid for sitting as well as lying down.
Neck and Body Pain
A positioning pillow can be placed under your head and shoulders, such as the Wedge Pillow, to relieve neck and shoulder pain and help with issues such as GERD and Acid reflux.
Tummy Sleeping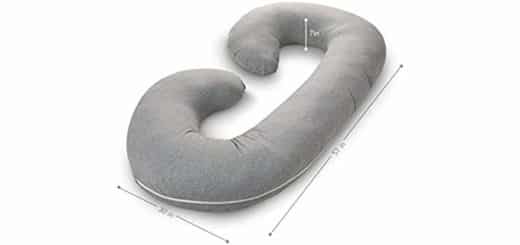 Sleeping on your tummy, mainly when you are older, is not very healthy and can cause pain and stiffness. A positioning pillow can help with this regard to reduce strain and give you a more comfortable position to sleep on your tummy. The full body or pregnancy pillow is the perfect choice for sleeping on your side or tummy.
The Knee Pillow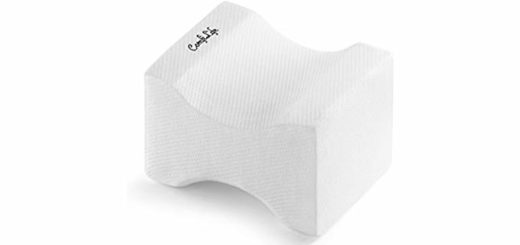 Mainly for individuals who suffer from back, knee, leg, or hip pain, a contoured pillow comfortably placed between the knees can provide much relief. The knee pillow likewise aids in correctly aligning your spine and reducing pressure on your legs, hips, and back.
Arm and Shoulder Positioning Pillows

In this case, your full-body pregnancy pillow will come in handy again, as you can place it under your arm or rest your arms on it for arm and shoulder pain relief.
---
Positioning Pillow Types for the Elderly
Here are a few Pillow Types that you can consider;
The Wedge Pillow – for your legs, head, neck, and shoulders, and GERD and Acid Reflux relief.
The Knee Pillow – for back, hip, and knee pain.
The Full Body Pillow – for multiple uses.
The Lumbar Support Pillow – or Half Moon Bolster.
---
Reviews: The Best Positioning Pillows for Elderly
---
1
The Jewel pillow is an excellent choice in contoured wedge pillows for support and pressure relief for seniors.
the Pillow has a recommended 30-degree tilt design.
There are high-efficiency layers of foam for even pressure distribution.
The top side is a soft and gentle antimicrobial and water-resistant nylon, and there is a non-skid bottom to reduce slipping.
The pillow comes with an ideal moisture-proof cover.
The contoured design takes the pressure off your spine and tailbone and evenly distributes weight.
---
2
The Bed Wedge Pillow is ideal for individuals who suffer from acid reflux, snoring, GERD, and breathing issues. The Bed Wedge riser similarly promotes much better sleep and offers much-needed support for your back, neck, and shoulders.
A high-density memory foam top with Cushy Form contours to your body's shape and works uniquely with your body heat.
It offers exceptional back, shoulder, and neck support and will aid in preventing acid reflux and GERD, as well as improving breathing and reducing snoring.
The breathable and washable cover is soft and comfortable while helping to maintain ideal temperatures.
Multi-purpose function as a sitting aid when reading or watching television.
---
3
I have found that very little compares to the full-body pregnancy pillow regarding pain-relieving comfort and support. Queen Rose is ideal for pregnant women and perfect for the elderly as a positioning pillow for sleeping and sitting, providing adjustable all-over body support.
A unique ergonomic design that follows the natural shape of your body that supports both your back and front.
Offers excellent pain relief, particularly for individuals with Arthritis, Sciatica; Fibromyalgia or Carpal Tunnel Syndrome.
This pillow will replace all your standard pillows and offer one solution for all.
The Pure velvet cover is machine washable and available in different color options.
---
4
This pillow does an excellent job in relieving back pain, but is likewise exceptionally beneficial to improve circulation and reduce stress on your spine. An outstanding choice post-surgery or injury to speed up the healing process, and great for swollen legs or Edema.
A two-layered design with a top memory foam layer and a firm foam base for soft comfort and strong support.
Aids in improving circulation and relieving back pain by correctly aligning your spine.
It is covered with a 400 thread count Egyptian cotton cover, breathable and removable for washing.
It has cushioned comfort and relief that is ideal for the elderly.
---
5
Versatile supportive Positioning Pillows for Elderly that can be placed under your lower back, under the knees, stomach, and ankles for pressure relief, as well as being suitable for back and side sleepers.
It is manufactured with premium medical-grade memory foam filling and a cotton fiber cover.
The ergonomic design will fit comfortably between your waist and keep your hips, legs, and spine in perfect alignment to alleviate back leg and hip pain.
The premium memory foam will retain its shape while being hypoallergenic, antibacterial, and dust mite resistant.
Multifunctional capabilities this pillow can be placed anywhere for effective support and relief for both back and side sleepers.
Likewise, it is very effective as a pregnancy pillow.
---
6
The ComfiLife Knee Positioning Pillows for ElderlyH is ideal to use if you suffer from back, hip, or knee pain. This pillow is placed between your knees, particularly when side sleeping, and offers you the optimal alignment and pressure relief.
An ergonomic design that fits comfortably between your knees for maximum support and Sciatica, Back, Hip, and Leg pain relief.
It is filled with premium high-density memory foam that will provide long-lasting comfort without going flat.
The contoured design keeps your legs, hip, and spine in perfect alignment.
A breathable and cooling cotton cover that is easily machine washable.
---
7
From DMI, we have the back wedge pillow that helps to improve circulation and prevents acid reflux.
An Upper body position pillow for head and back support.
Prevent acid reflux and improve circulation.
Firm support and positioning.
High-quality materials.
---
8
A comfortable Memory foam Cervical pillow that positions your neck and back ideally for better spinal alignment.
Chiropractors and orthopedic surgeons recommend it.
Premium quality hypoallergenic cover and memory foam fill.
Firm support.
Positions the neck and shoulders for optimal spinal alignment.
---
9
The Luna is a knee pillow from premium memory foam that helps prevent leg, hip, and back pain in side sleepers.
It offers excellent Sciatica, back, knee, and hip pain relief.
It is made from Centi-PUR premium natural memory foam.
Ergonomic and innovative design with soft support.
A breathable and machine washable cover.
---
10
This is a full set body support system for senior persons.
It consists of a Curved Back Wedge and leg Wedge Pillows to fully support the back, legs, and hips.
It is filled with 4LB of Viscose Memory Foam and jas a soft and breathable Microvelevet cover.
Ideal for all sleeping and seated positions.
---
11
Positioning Pillow set for multifunctional support and comfort for seniors.
Three are three separate foam wedge pillows for full-body support and comfort,
The foam wedges can be used in many ways for customizable support.
It is filled with premium memory foam with an ergonomic and weightless pressure relief design.
A non-skid bottom that stays in place.
---
12
An excellent two-piece design to help with pain relief, acid reflux, snoring and keep you comfortable while lounging.
The Velcro system and two buttons help adjust the head pillow to your desire, and the same wedge also provides support for the lower back.
Moreover, the height and direction can be altered on this ergonomically designed pillow for optimal posture.
Axelrod Positioning Pillows for Seniors are made of Certipur-us certified memory foam, non-toxic foam, phthalate, and BPA free, making them safe and comfortable.
The multi-position support pillow can keep the upper body elevated, align the spine correctly and relieve back and neck pain.
---
Lastly
There are many different positioning pillows available, each with a unique purpose and design. I have tried to pick a few that are more versatile and ideal for common issues faced by our seniors today, such as back and hip pain, arthritis, and circulatory issues.
---
Index Table: Top-Rated Positioning Pillows for Elderly
---
---