Finding the Best Non Toxic Pillows that offer great support and comfort is difficult.
However, choosing natural, non-toxic materials is a step ahead for your health and the environment. Avoiding synthetic and chemical-ridden materials is much healthier for you as a person and much better for the environment in the long run.
---
---
Benefits of Non Toxic Pillows
Going organic and toxin-free is ALWAYS the better option; there are just no two ways about that!
We all know that sleep is important, but did you also realize how much of a difference your pillow can make? When we lie down on our synthetic chemical-ridden pillows each night and breathe in those toxins from the mattress or body language materials used for fill stuffing, they come into contact with the skin, which means more potential problems. Now, picture that every night of your life for many years.
A Pillow is an investment in your health, comfort, and well-being, so ensuring you have a good pillow while offering the best customized support for your needs is quite an important decision.
Then there are likewise other reasons for going chemical-free;

Chemical-Free – The cotton or bamboo covers are not treated with pesticides or other chemicals.
Supporting Small Businesses – You support organic farmers and small businesses, which need your support much more than high-end retailers.
Utilizing Natural Resouces – You utilize more natural resources for comfort and health.
Excellent Quality – You can ensure that the products you receive are of the finest quality.
Environmentally Friendly – Making your step forward in caring for the environment.
Hypoallergenic – Most natural and organic materials and all chemical and non-toxic materials tend to be hypoallergenic and will not cause allergies and irritations.
You must change your pillow every 2.8 years to ensure it stays toxin-free. (as per Sleep.org)
---
Are Down and Feather Pillows Non-Toxic?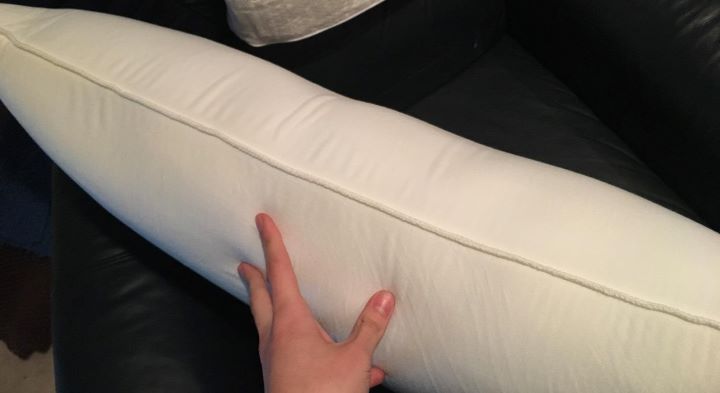 I love down and feather pillows; they are all-natural, non-toxic, and superbly comfortable.
Though sourcing these feathers for filling the pillows may be less kosher or humane in some cases, the choice is up to you.
Just be aware of allergies to feather or down pillows; you can opt for a double-layer cotton cover and look for the hypoallergenic notice in the description. Feather and down may not be everyone's cup of tea, but it is one of the softest and most adjustable options that you may find.
---
Related Articles on Natural Pillows
---
What Materials are Non-Toxic Pillows Made from?
A chemical-free natural pillow comes in a range of material options; here are just a few that you can consider;

Organic Cotton – Cotton, particularly on the pillow cover, ensures it is pure and organic.
Kapok – Kapok is a nut fiber from rainforest trees.
Organic Latex – Shredded latex, a natural filler from the rubber tree.
Wool – Wool, soft, and comfortable.
Feathers and Down – Down or feather fillings are generally non-toxic and safe but may cause allergies.
Buckwheat – Buckwheat filling, super adjustable, breathable and naturally cooling.
Also, look for:

Non-Toxic Covers – Look for pure cotton or bamboo covers that are natural and toxin-free.
Certifications – Look for certifications like CERTIPUR-US, Oeko-Tex, GOLS, etc.
---
How We Test and Score Non Toxic Pillows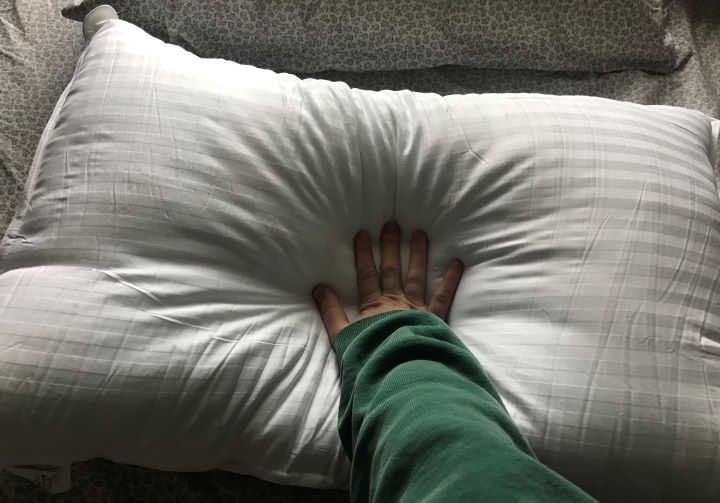 These reviews are based on intense research, analysis, and feedback from our experts and real users from different digital platforms.
We spent 22 hours trying, testing, and scoring these Non-Toxic Pillows for different key parameters and then shortlisted the best products in the market, saving you time and effort.
We used the following parameters for our tests and analysis.
Non-Toxic – We researched the pillow's material to ensure it did not cause any allergies and was safe to use.
Quality – We researched how long users can use the pillows without any reported changes in the quality or design.
Hypoallergenic – We observed how the pillows likely trigger an allergic reaction.
Adjustability – We tested the pillow's adjustability to check whether it can be used in any sleep position.
Price – We checked the pillow's affordability and good quality.
---
Frequently Asked Questions (FAQ) on Non Toxic Pillows
---
Reviews: The Best Chemical-free Pillow Brands
Check out our list of the best non-toxic and environment-friendly pillows.
We hope you love the nontoxic pillows we recommend!
We may collect a share of sales or other compensation from the links on this page.

---
1
---
2
A pure and natural organic pillow that is chemical and allergen-free.
It is filled with GOTS-certified organic Latex that is shredded for comfort.
An organic cotton cover that is also certified.
Soft cooling design.
Shredded latex is moldable and adjustable.
| Rating Category | Weight % | Score |
| --- | --- | --- |
| Non-Toxic | 30% | 100 |
| Quality | 25% | 95 |
| Hypoallergenic | 20% | 100 |
| Adjustability | 15% | 90 |
| Price | 10% | 95 |
| Total Score | 100% | 96.75 |
---
3
I love the PureTree Latex pillow; it is natural and organic with no chemicals or synthetics.
It is filled with shredded latex foam, an organic substance from the rubber tree.
Latex is very resilient, hypoallergenic, and offers support similar to memory foam.
The Cotton lining is manufactured from 100% pure organic cotton that is breathable, non-allergenic, and cooling.
A double, hidden zipper allows you to adjust your pillow's fill to your specific requirements.
This pillow has a unique design to allow maximum airflow during the night.
| Rating Category | Weight % | Score |
| --- | --- | --- |
| Non-Toxic | 30% | 100 |
| Quality | 25% | 95 |
| Hypoallergenic | 20% | 95 |
| Adjustability | 15% | 90 |
| Price | 10% | 95 |
| Total Score | 100% | 95.75 |
---
4
The Official Pillow from NapYou is one of the best pillows for sleeping on that features some
excellent non-toxic construction.
This pillow comes in a pack of two lush queen-sized pillows, ideal for sleeping comfortably on.
Filled with non-toxic shredded memory foam that is fully adjustable.
The cover is made from 100% pure organic cotton that is breathable and cool against the skin while being hypoallergenic.
An ideal pillow for side, neck, and back sleepers that offers exceptional neck and back support.
The cover is super soft, and you can remove it for washing.
This pillow is free from flame retardants, phthalates, heavy metals, and other hazardous chemicals.
An all-natural CertiPur accredited pillow that is as comfortable as it is durable.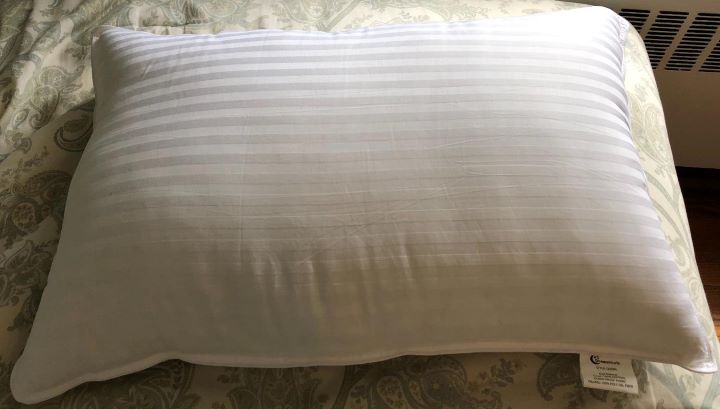 ---
5
The Snuggle-Pedic Ultra Luxury is another great option in non-toxic pillows with an adjustable fit for something extra plush and snuggly.
Filled with shredded combination memory foam that is extra breathable and fully adjustable.
The cool and comfortable bamboo cover is completely breathable and fully machine washable.
This pillow is entirely hypoallergenic and dust mite resistant.
it is also CertiPur certified without any flame retardants or chemicals.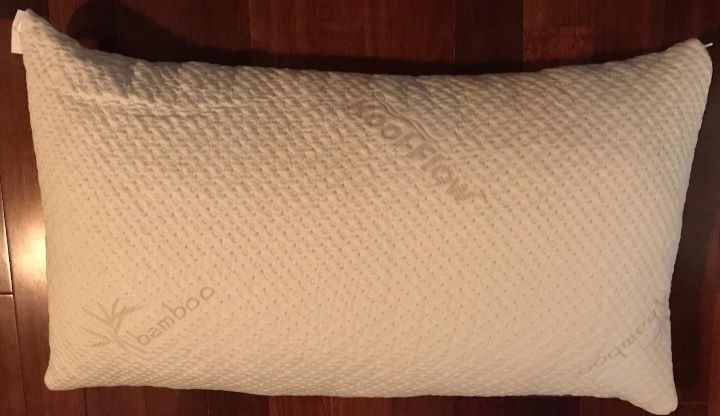 ---
6
Another excellent organic option. The Organic Textile Cotton Pillow is as safe and chemical-free as comfortable and supportive.
Completely hypoallergenic and chemical-free, with no dye or pesticides found in the materials.
It is manufactured from pure organic cotton that is cool, breathable, and good for your skin.
This pillow has a medium fill, ideal for the right amount of comfort and support.
---
7
Zen Chi is another one of my favorites. A buckwheat-filled pillow is an excellent, more natural, and hazardous chemical-free option.
Filled with organically grown buckwheat hulls, which allow for better air circulation, offering superb cooling comfort.
This pillow will naturally adjust to your ideal sleeping position while giving your neck, head, and shoulders the best support.
Refillable so that you can adjust the firmness of your pillow.
It comes with a washable pure organic cotton cover.
---
8
Latex is the new memory foam, a natural substance with similar qualities. The All-Natural Latex Pillow offers an all-natural, non-toxic, and chemical-free option with a medium-firm consistency.
Filled with all-natural latex that offers exceptional comfort and support for a good night's rest.
Resilience is one of the top qualities of latex, such as strong material that is also dust mite and mold resistant.
This is one of the most hypoallergenic pillows that are available.
The cotton pillow cover provides just the right amount of airflow for your pillow to breathe and keep cool.
---
9
Memory foam and Bamboo are two natural elements that offer a safer sleeping option. The Xtreme Comfort pillow is non-toxic and completely chemical-free.
The Xtreme Comforts Bamboo Pillow has a quality Memory foam fill and exceptional cooling technology, allowing for better ventilation and breathing properties.
A fully adjustable pillow filled with Hypoallergenic and toxin-free memory foam.
You can add and remove fill with the zipper closure for adjustability.
Contoured design for better support and alignment.
The Cooling Gel offers better temperature control and prevents overheating.
A Bamboo Cover that is Hypoallergenic and moisture-wicking.

---
10
Organic cotton pillow, available in different size options.
It is filled with 100% pure organic cotton and a cotton cover.
Free of all chemicals and synthetic materials.
Soft and comfortable to sleep on.
---
11
Filled with premium, non-toxic CertiPUR-certified memory foam.
Ergonomic support design.
Soft and breathable materials.
All-natural bamboo pillowcase.
---
12
A 100% pure organic cotton-filled pillow with a cotton pillowcase.
Breathable and soft to sleep on.
Completely non-toxic and chemical-free.
Available in different size selections.
---
13
A GOTS Certified Organic Latex Filled pillow.
Gots Certified Organic cotton Cover that is soft and breathable.
Completely Chemical and synthetic-free.
The Cover is Removable and Machine washable.
Available in different size options.
---
Index Table: Top Rated Non Toxic Pillows
---
---