The best pillow for people with fibromyalgia will be firm enough to support the head without putting too much pressure on the spine or neck but soft enough to relieve pain during sleep.
You can scroll below to learn all there is to know about the symptoms and treatment of fibromyalgia and the best pillows to provide relief.
---
---
Fibromyalgia: Explanation and Symptoms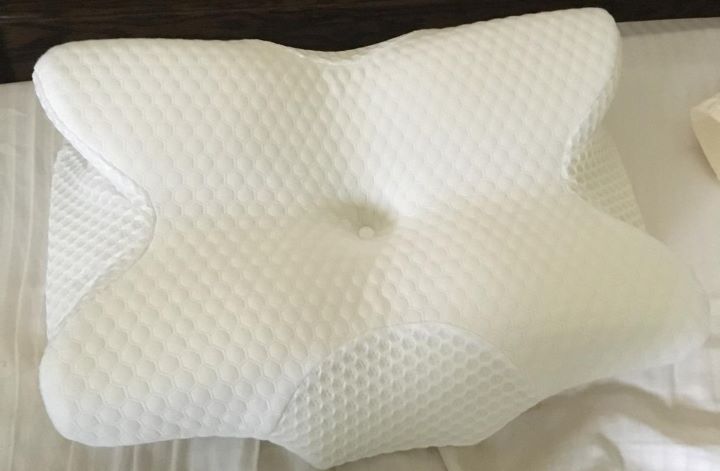 What It Is – Fibromyalgia affects the pain receptors and amplifies painful sensations in the body. It is a chronic condition, and its cause is still unknown. It happens due to an abnormal nervous system response, and the pain ranges from mild achiness to intense unbearable discomfort.
Who It Affects – Women are seven times more likely to develop fibromyalgia than men. Symptoms sometimes appear after physical trauma or damage of any kind. In other cases, symptoms may accumulate over time.
Symptoms – Fibromyalgia symptoms include widespread pain all over the body, headaches and migraines, fatigue, cognitive difficulties, trouble sleeping, and bladder problems.
Trigger Points – Common trigger points used to diagnose fibromyalgia include the back of the head, tops of the shoulders, neck, head and outer elbows, upper chest, hips, and knees.
---
How to Reduce Fibromyalgia Symptoms?
Currently, there is no cure for fibromyalgia, but some things may lessen the symptoms and intensity of this disease.

Medications – Medications to lessen Fibromyalgia symptoms most commonly include Pain relievers to overcome the constant chronic pain, anti-depressants to rebalance neurotransmitters, improve sleep quality, and treat fatigue and pain. Anti-seizure drugs such as Pregabalin (Lyrica), which blocks nerve cells from sending out pain signals, are an FDA-approved treatment for fibromyalgia.
Lifestyle Changes – Eating a balanced and healthy diet, group therapy, and Cognitive Behavioral Therapy are some options for managing fibromyalgia. Using the right accessories, e.g., pillows, bedding, chairs, and couches, can make a huge difference in pain management due to fibromyalgia.
Physical Therapy – Physical therapy like exercise, Yoga, Massage therapy, and other such things may help keep your body healthy, which may, in turn, lower the rate of triggering fibromyalgia.
---
Types of Pillow That Are Effective on Fibromyalgia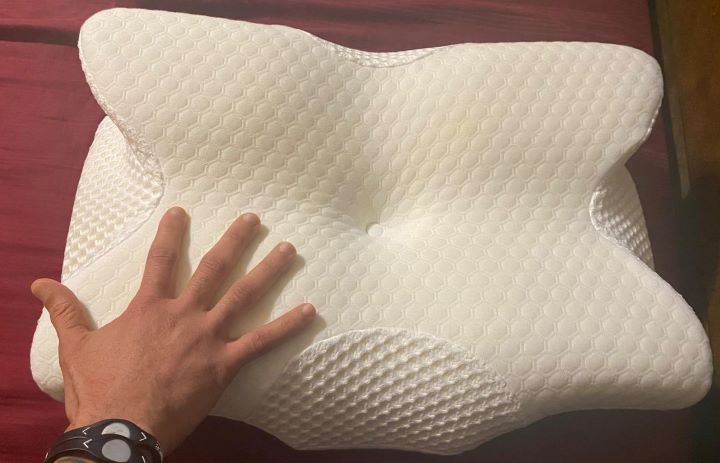 Any pillow that supports the body while still being soft enough to provide a cushion can help pain management and give you a restful sleep.

Body Pillows – U-shaped body pillows, pregnancy pillows, L-shaped, and V-shaped body pillows are some of the options that provide full-body support for a comfortable night. These pillows are suitable no matter what position you are sleeping in.
Water Based/Gel Pillows – Water-based and Gel pillows both have the quality of being adjustable. They adjust according to the shape of your neck and shoulders to provide optimum support.
Latex/Feather Stuffed Pillows – These pillows are firm; therefore, they keep the neck and shoulder in place. Twisting your body might cause more pain in the case of fibromyalgia.
---
How We Test and Score Pillows for Fibromyalgia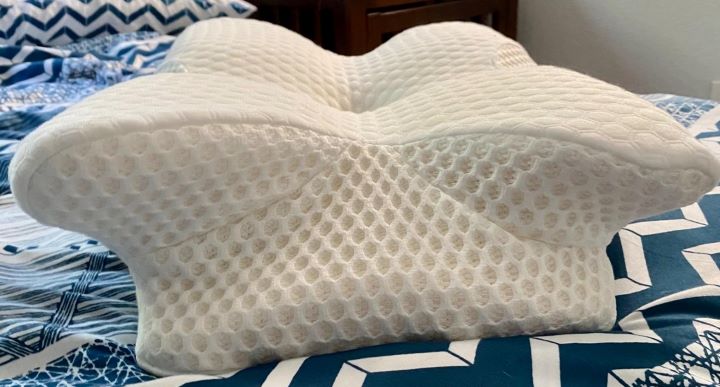 These reviews are based on intense research, analysis, and feedback from our experts and real users from different digital platforms.
We spent 25 hours trying, testing, and scoring these Pillows for Fibromyalgia for different key parameters and then shortlisted the best products in the market, saving you time and effort.
We used the following parameters for our tests and analysis.
Pain Relief – We checked how extremely effective the pillows are at soothing skin and minimizing pain while sleeping.
Anti-Fatigue – We took note of the level of tiredness our bodies felt with the pillows we tested.
Comfort – We checked how comfortable and safe the pillows were.
Adjustability – We tested the pillow's adjustability to check whether it can be used in any sleep position.
Support – We checked how well the pillows support the user's body and help maintain better alignment.
---
Frequently Asked Questions (FAQ) Regarding Pillow for Fibromyalgia
---
Reviews: Best Pillow for Fibromyalgia
The list below consists of products we found to be the most useful for relieving pain from fibromyalgia and allowing for restful sleep.
We hope you love the pillows for fibromyalgia we recommend!
We may collect a share of sales or other compensation from the links on this page.

---
1
---
2
This pillow has premium food-grade microbeads that provide cushioned comfort and full-body support.
The Squishy Deluxe pillows come in a soft cover made from a unique combination of Nylon and Spandex to provide a silky feel.
You can use this pillow as perfect for full-body support during pregnancy and nursing for targeted support.
All seams of this pillow are double-reinforced to prevent any bead leakage.
It is hypoallergenic, odor-free, antibacterial, and resistant to dust mites.
| Rating Category | Weight % | Score |
| --- | --- | --- |
| Pain Relief | 25% | 100 |
| Anti-Fatigue | 25% | 100 |
| Comfort | 20% | 90 |
| Adjustability | 15% | 95 |
| Support | 15% | 90 |
| Total Score | 100% | 95.75 |
---
3
This latex pillow supports the head and neck with a resiliency similar to memory foam. It does not go as flat as Polyester, cotton, or feather-filled pillows. Contains GOLS Certified Organic Natural Latex sourced from harvested rubber tree sap, whereas the cover and lining are 100% GOTS Certified Organic Cotton.
PureTree pillows have a zippered inner lining for adjustable filling according to soft, medium, and hard preferences.
The outer cotton cover is removable and washable.
This product allows for air circulation to prevent heat trapping.
| Rating Category | Weight % | Score |
| --- | --- | --- |
| Pain Relief | 25% | 100 |
| Anti-Fatigue | 25% | 95 |
| Comfort | 20% | 90 |
| Adjustability | 15% | 95 |
| Support | 15% | 90 |
| Total Score | 100% | 94.5 |
---
4
These Zoey Sleep pillows are designed to give extra comfort for side sleepers and reduce pain associated with poor sleep, which might also help your fibromyalgia.
The memory foam filling is plush and adjustable, and the pillows easily contour to the shape of your head.
To adjust the plushness and firmness of the pillow, you may open the pillow zipper and remove or add the filling to your comfort.
If you have specific preferences like a firm, medium, or soft pillow, you need not worry about it with Zoey pillows for fibromyalgia.
This is also a safe pillow as it is CertiPUR-US and OEKO Certified.
These are machine washable as well.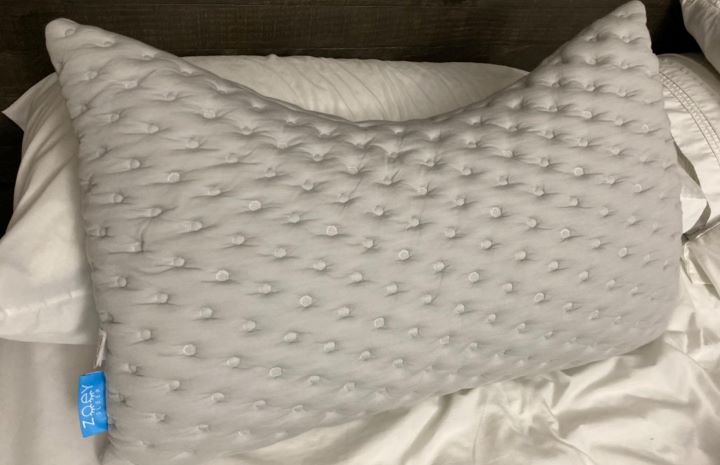 ---
5
The Tuft & Needle pillows feature adaptive latex foam and provide excellent support for a good night's rest.
The secret behind its comfort is infused with graphite and cooling gel that allows sweat-free sleep.
Moreover, these are Certi-Pur-US certified and free from harmful chemicals.
These US-made pillows come with a 30-day trial, and you can return them if they don't live up to your expectations.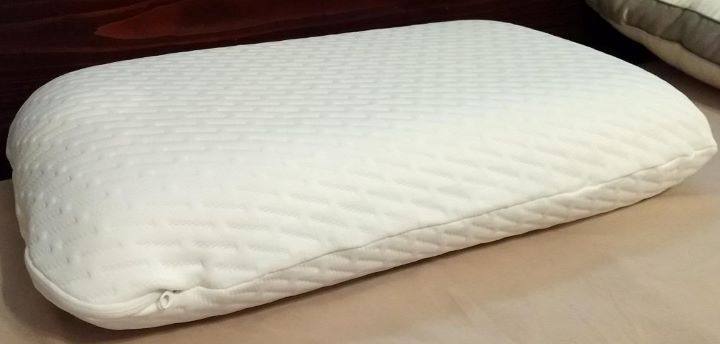 ---
6
The famed Purple Pillow is designed using Hyper-Elastic Polymer grid technology to allow the shape to maintain. It is soft in the middle and firm around the edges for maximum comfort and support.
It is designed to have hundreds of tiny triangles that relax under pressure.
This sturdy or supportive pillow is ideal for back sleepers or side sleepers.
It uses technology to neutralize temperature and allow heat elimination.
This product comes with a washable cover made of a unique combination of Polyester, spandex, and bamboo.
This pillow is naturally antimicrobial and hypoallergenic and FDA and CertiPUR-US­ Certified.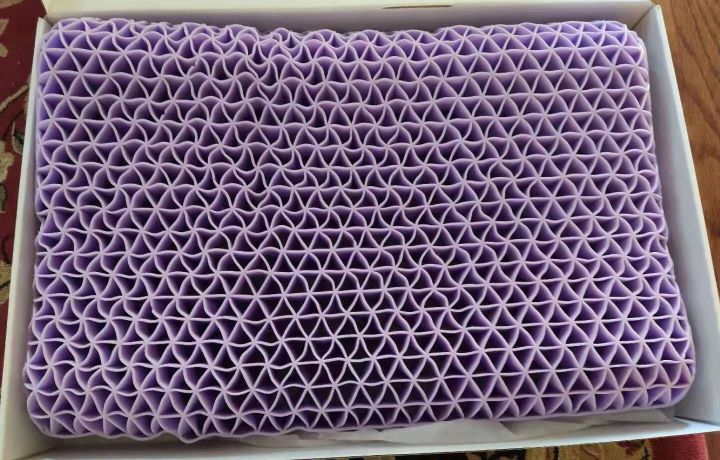 ---
7
This fibromyalgia pillow comes in a unique U-shape, designed to relieve body pain, especially in the case of fibromyalgia.
The cover and filling of this pillow are both made using 100% high-quality Polyester.
It is adjustable and conforms to the body's shape to relieve discomfort and pain.
It is suitable for machine washing and has a zipper to adjust the filling if you require it.
---
8
This C-shaped pregnancy pillow eliminates the need for multiple bed pillows while supporting your back, hips, knees, head, and neck.
The adjustable polyester filling in this body pillow adapts to your body shape to provide maximum support and comfort.
Each pack includes a grey-colored body pillow and a travel and storage bag.
Includes Travel and Storage Bag – Grey Color Only
---
9
A comfortable Cervical Pillow filled with premium memory foam for optimal support and comfort.
The ergonomic design offers excellent neck, back, and body support.
Reduces pain and discomfort for a good night's rest.
It comes with a washable and breathable cover.
---
10
Queen Rose is a plush and supportive Body Pillow.
It offers complete body support and comfort.
It is designed for all sleeping positions and is ideal for pregnant women.
C-shaped ergonomic design.
---
Index Table: Top-Rated Pillow for Fibromyalgia
---
---