Hip pain is a common problem caused by various factors, such as arthritis, injury, or infection. While there are many possible treatments for hip pain, one easy and affordable option is to use a pillow specifically designed to help with this condition.
A pillow made from natural fabrics, such as cotton or silk, can help keep the joint warm and lubricated, reducing inflammation and easing discomfort.
Pillows can provide support and comfort, which may help reduce your hip pain. In this blog post, we'll explore the benefits of using a pillow for hip pain and share tips on choosing the right one. Stay tuned!
---
---
What Causes Hip Pain
There are so many causes related to hip pain, here are just a few of them;
Some Arthritis types, such as Juvenile Idiopathic Arthritis, Osteoarthritis, Psoriatic Arthritis, Rheumatoid Arthritis, and Septic Arthritis, can cause hip pain.
Injuries such as Dislocation, Bursitis, Fractures, Sprains, Tendinitis, Sciatica, and Hernia in the hip can cause pain and stiffness.
Some cancer types, such as bone cancers and leukemia, are likely to affect your hips in time.
Infections in the bone or inflammation in the hip joints are likewise culprits for hip pain.
Osteoporosis, usually found in older individuals, can cause serious hip pain and stiffness.
---
How to Treat or Manage Hip Pain
When you have inflammation in your hip joints or pain as a cause of an injury, it is always best to limit pain-causing activities and take a few days to rest.
An ice pack can help to ease pain and swelling in the affected area.
Pain and inflammation medication will likewise provide some relief.
The best way to reduce pain and discomfort, particularly at night, is to use a hip support pillow to elevate your legs or knees so that the hip is perfectly aligned.
A knee pillow is an excellent choice for hip pain relief.
Furthermore, stretching and exercise may help, particularly in an individual who has a form of arthritis.
Walking in a shallow pool or on a flat surface is an ideal exercise for hip pain, like swimming, bike riding, and yoga.
---
Related Articles on Theraputic Pillows
---
What to Avoid When You Have Hip Pain
Try to avoid intense exercise and running.
Avoid any activity that requires you to move your leg away from your body.
Avoid doing strength training such as squats or any exercise involving heavyweights.
Do not perform any activity that puts extra pressure on your hip joints.
If you are overweight, try to lose weight gradually.
Acupuncture and other forms of alternative medicine may help to ease the pain.
You can also try using a heating pad or hot bath to ease the pain.
There are also over-the-counter medications that can help with the pain.
If the pain is severe, you may need to consult a doctor. They will be able to prescribe stronger medication if needed.
---
How to Prevent Hip Pain When Sleeping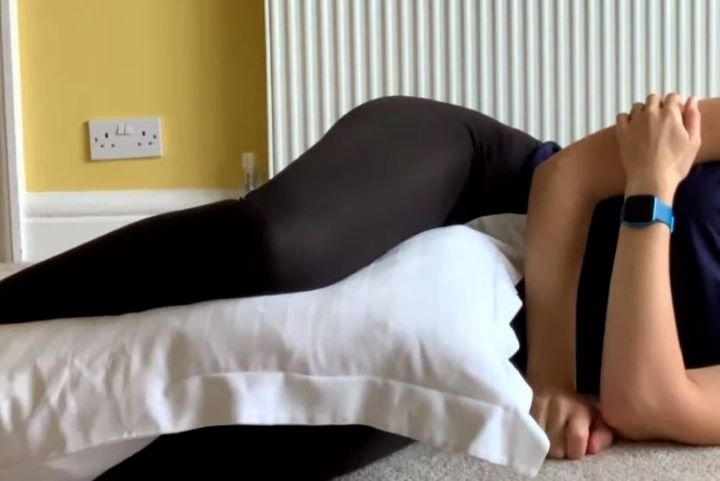 Hip pain seems to be at its worst while sleeping, no matter its cause.
Investing in a good knee or body pillow seems the best available option to provide you with the proper support for effective pain relief.
However, here are a few tips you can follow just as well;
You can change your sleeping position and use your pillows as bolsters or supports to find a position that causes you the least pain.
Ensure that your mattress is not the cause of your hip pain; I would suggest investing in a latex or memory foam mattress.
Try to practice good sleeping habits to better your sleeping pattern, avoid alcohol and screen time before bed, and make your bedroom less cluttered and more rest and peace-friendly.
Performing a few hip stretches before bed can help work out the tension in your hips and equally reduce pain.
Invest in a full-body pregnancy pillow or a good knee or Bolster pillow for additional support while sleeping.
---
The Best Pillow Types for Hip Pain
Knee Pillow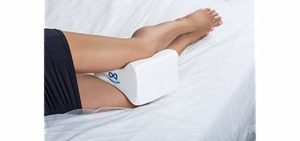 One of the most common and best pillows for hip pain is the knee pillow. This is a small contoured pillow that clenches between your knees when sleeping, which helps to align your spine and hips in such a manner as to reduce stress on the joints and eliminate pain.
This type of pillow likewise aids with back, knee, leg, and ankle pain and aids in giving you a better sleeping posture.
The Full Body Pillow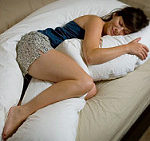 A pillow is mostly used in pregnancy, giving you the functionality of three pillows in one. This pillow comes either in a C-shape or straight and is adjustable to suit your needs. I have found this pillow to serve the same function as a knee pillow while giving you further support for your back, neck, shoulders, and head. It is similarly ideal for any possible sleeping position.
Half Moon Bolster Pillow

When it comes to hip pain, the Bolster pillow is mainly placed under your knees when sleeping on your back to give you better alignment and relieve pressure. It can also be used for lumbar support when you are sitting.
---
How We Test and Score Pillows for Hip Pain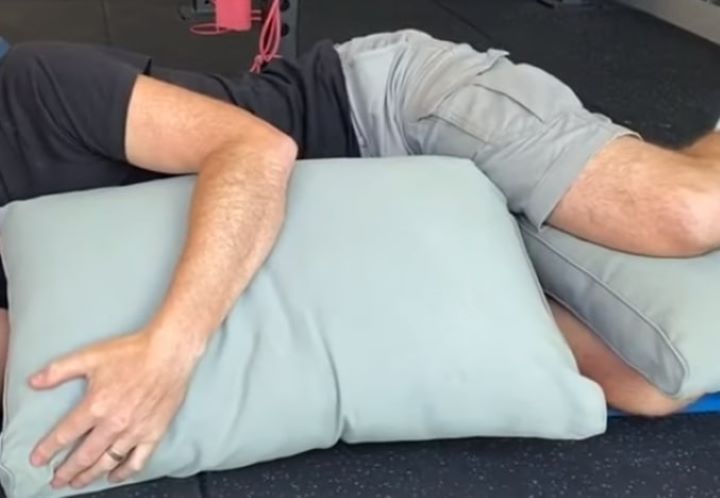 These reviews are based on intense research, analysis, and feedback from our experts and real users from different digital platforms.
We spent 31 hours trying, testing, and scoring these Pillows for Hip Pain for different key parameters and then shortlisted the best products in the market, saving you time and effort.
We used the following parameters for our tests and analysis.
Pain-Free – We checked how extremely effective the pillows are at soothing skin and minimizing pain while sleeping.
Antibacterial – We analyzed how effectively the pillows work to fight or resist bacteria.
Comfort – We checked how the pillows were comfortable and safe when used.
Breathability – We checked whether the pillows' fabric was breathable or caused any sweating.
Adjustability – We tested the pillow's adjustability to check whether it can be used in any sleep position.
---
Frequently Asked Questions (FAQ) Regarding Pillow for Hip Pain
---
Reviews: The Best Pillows for Hip Pain
Here are some ideal choices in Pillows that will help to alleviate and prevent hip pain;
We hope you love the pillows for hip pain we recommend!
So that you know, We may collect a share of sales or other compensation from the links on this page.

---
1
---
2
The Knee-T leg pillow is designed with an ergonomic shape that fits between your knees for added support as you sleep.
Moreover, it provides comfort and support for those with lower back pain, sciatica, and pregnancy pains.
This product is highly durable as it is made from medical-grade foam and will not flatten anytime soon.
Besides, this T-Leg pillow is ideal for people suffering from hip pain as it holds the legs in a neutral position and aligns the spine, hips, and legs.
| Rating Category | Weight % | Score |
| --- | --- | --- |
| Pain-Free | 25% | 100 |
| Antibacterial | 25% | 100 |
| Comfort | 20% | 90 |
| Breathability | 15% | 95 |
| Adjustability | 15% | 90 |
| Total Score | 100% | 95.75 |
---
3
This is a full-body pillow that you can adjust and use as you see fit for sleeping, lounging, or even just sitting on; it has many uses and offers so much pain and stress relief for every part of your body.
A C-Shaped Full body Pillow that supports your back, knees, hips, neck, and head.
The adjustable polyfill material adapts to your body and gives you the ideal shape and firmness.
It is filled with premium high-density memory foam that will keep its shape every time you use it.
It offers the support of three or more pillows in one.
This best pillow for hip pain while sleeping comes with a lifetime manufacturer warranty.
Covered with a soft and comfortable jersey cover.
| Rating Category | Weight % | Score |
| --- | --- | --- |
| Pain-Free | 25% | 100 |
| Antibacterial | 25% | 95 |
| Comfort | 20% | 90 |
| Breathability | 15% | 95 |
| Adjustability | 15% | 90 |
| Total Score | 100% | 94.5 |
---
4
When it comes to hip pain, the knee pillow is the absolute ideal as it aids in realigning your hips and spine to offer the best posture and stress relief. The Cushy form Knee pillow works with your body heat to give you the best support and comfort in a knee pillow.
The contoured shape offers the best in back, leg, hip, ankle, joint, and knee pain and provides proper spinal alignment.
It Improves circulation for side sleepers.
A cushy memory foam fills and forms cool and soft in warm weather and firmer and warmer in colder weather.
Likewise, the pillow reacts to your body heat, becoming softer with the heat you reflect, although it always returns to its shape afterward.
It has a fully washable and breathable cover and a free carry bag.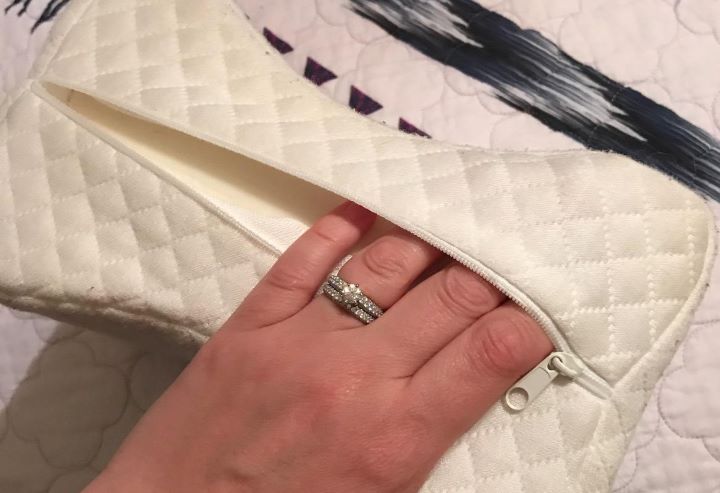 ---
5
Yet another outstanding selection in knee pillows, the Everlasting Comfort, comes with an adjustable and removable strap to keep it in place and an additional pair of earplugs as a bonus treat.
A removable and adjustable hook and loop strap to keep the pillow perfectly placed between your knees while sleeping.
It is filled with pure high quality and resilient memory foam.
The free earplugs are also made from soft and durable memory foam and will reduce background noises.
An ergonomic curved design with orthopedic contour for the ideal spacing between your knees to support and align your legs and hips.
Manufactured from pure memory foam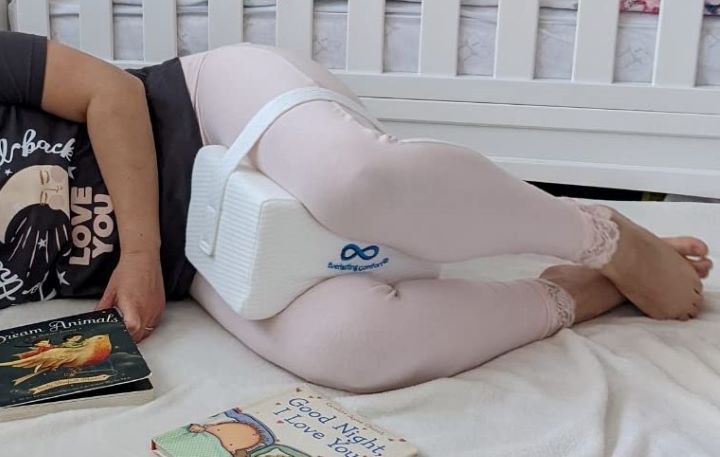 ---
6
Being a side and tummy sleeper myself, I found the perfect match to provide you with full support and comfort in these sleeping positions, the CustomSleeping Full Body Pillow. This pillow will put the function of two pillows into one comfortable and hypoallergenic pillow.
It is filled with high-quality shredded memory foam that is superbly flexible and moldable.
The Memory foam is likewise hypoallergenic and will prevent the collection of dust and dust mites.
It is covered with a premium bamboo-derived rayon cover that is soft on your skin, hypoallergenic, antibacterial, and fully washable.
This pillow fully adjusts and contours to your body's curves, giving you the most comfortable and supportive position.
Likewise, an ideal pillow for pregnancy.
---
7
This pillow is filled with supportive memory foam in an ergonomic shape to provide lumbar support alleviating back and hip pain.
It offers superb lumbar and hip support to alleviate back and hip pain effectively.
It is filled with memory foam that has a slow rebound.
A breathable cotton cover is included and is fully washable.
A Multifunctional supportive, and robust pillow.
---
8
This is a knee pillow you place between your knees when sleeping to align your hips, relieving hip pain correctly.
An orthopedically designed knee pillow relieves sciatic nerve pain, and knee, back, and hip pain.
A removable and machine-washable cover.
It is filled with premium memory foam.
A unique bolster pillow for hip pain relief.
---
9
The knee pillow from Aveston has two foam layers to offer you the best support and alignment to relieve hip pain effectively.
Offers soft and comfortable support with two foam layers.
Covered in a smooth and breathable cotton cover.
The cover is fully washable and easily removed.
There is an adjustable strap to keep this pillow in place.
It comes with two cotton covers included.
---
10
DMI Bed Wedge Ortho Pillow is a unique and innovative orthopedic pillow that elevates your legs above your heart.
It provides comfort and promotes blood circulation while relieving pressure on your back.
The supportive foam wedge pillow keeps its shape and includes a machine-washable, removable cover made from poly cotton.
Besides, you can use the wedge pillow to relieve knee pain, varicose veins, phlebitis, and restless leg syndrome helping you get restful sleep.
---
11
The Aeris side sleeper hip pain pillow is great for relieving back and hip pain.
It offers full hip, back, and sciatica pain relief.
It is filled with 100% high-quality memory foam.
It takes the pressure off your knees and lowers your back.
Very easy to clean with a washable and removable cover.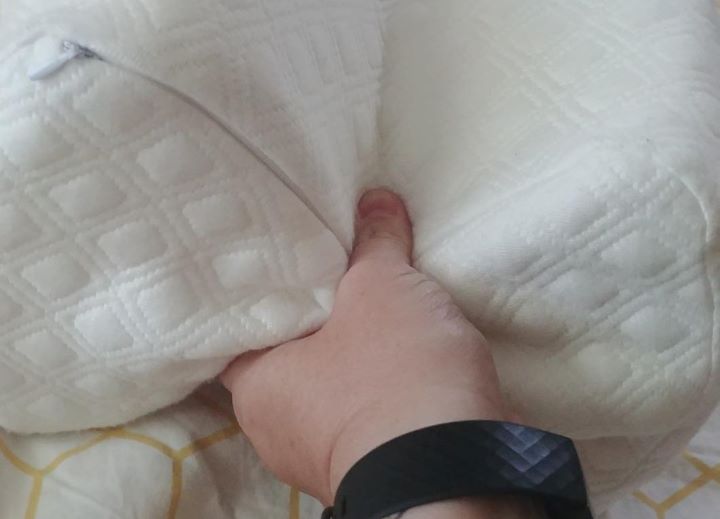 ---
12
The ComfoLife Knee Pillow has a contoured design and memory foam filling to provide orthopedic relief from hip pain and, similarly, back, leg, and joint pain.
An ergonomic design knee pillow that fits comfortably between your knees for maximum support and comfort during the night, helping to relieve hip, back, leg, and joint pain.
The contoured design will keep your legs, hips, and spine in perfect alignment while sleeping and improve circulation.
The cover is super breathable with zipper closure and cooling technology.
---
In Conclusion
As you can see, the best pillow for hip pain is, after all, the knee pillow, although a full-body pillow or bolster pillow can offer you similar relief with more versatile benefits.
I have chosen the best brands and models in these pillow types, all of which have exceptional features that will offer you the best pain and pressure relief.
---
Index Table: Top Rated Pillow for Hip Pain
---
---