Some of the links in this post are affiliate links. This means if you click on the link and purchase the item, I will receive an affiliate commission at no extra cost to you. All opinions remain my own.
There are mainly two types of Arthritis that can affect your neck area, leading to neck pain, Cervical Spondylosis and Rheumatoid Arthritis. Both cause pain and discomfort in your neck, which can be especially annoying when you try to sleep.
The right sleeping aids and position, including a good pillow, can make a huge difference and provide a pain-free and discomfort-free night's rest.
---
---
Arthritis in the Neck
Aging is unfortunately inevitable, and with age comes wear and tear, which causes aches and pains in the joints and spine and many conditions, such as Arthritis.
Cervical Spondylosis is the most common type of arthritis affecting your neck, usually due to age-related degenerative spinal joint changes.
Rheumatoid Arthritis is also a form of Arthritis that affects your joints that can cause pain and discomfort in the neck, Although it is more common in your hand's feet.
Osteoarthritis develops from around forty years of age and typically progresses as the years pass; Osteoarthritis can likewise affect your neck.
---
Sleeping with Arthritis in Your Neck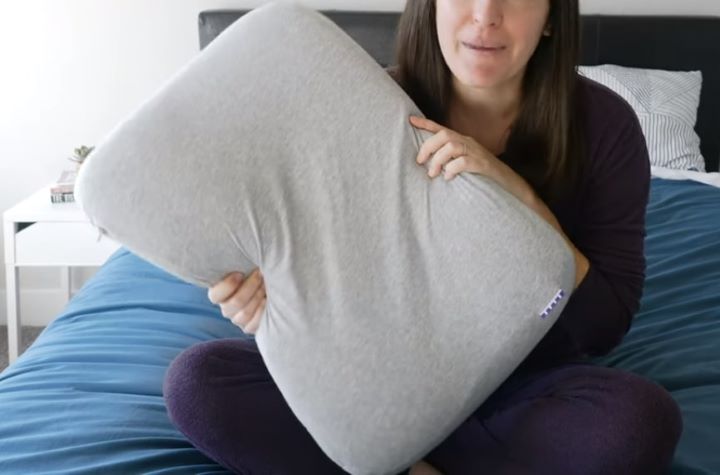 Arthritis in your neck can cause great pain and discomfort when trying to sleep, affecting your sleep patterns and resulting in you waking up tired and feeling unpleasant.
So here are a few useful tips for a more comfortable and pain-free night's rest if you suffer from an arthritic neck;
Sleep in a Spinal Alignment – Make sure your head is perfectly aligned with your spine when you sleep. Your head should never be bent forward or extended backward too excessively. For this reason, you should avoid a flat pillow that positions your head lower than your spine. Remember that your head, in turn, is just an extension of your spine.
Avoid Stomach Sleeping – Sleeping in your stomach twists your neck with no natural or correct spinal alignment, causing much strain on your neck and shoulders.
Invest in a Good Supportive Pillow – When it comes to the perfect pillow for an arthritic neck, there is no reason to choose the most expensive choice. There are plenty of selections that will offer you just the right support. The main idea is to confirm your chosen pillow and position it in such a manner as to offer you the most comfortable sleeping position and the best support.
Pillow Width – A good pillow for neck pain or Arthritis should be wide enough to support the distance between your shoulders and neck, it should be adjustable so that you can shape and reshape it, and for side sleepers, it needs to fill the space between your mattress and your ear.
A Neck Collar – Another way to keep your neck aligned during the night is to wear a soft collar. Wearing a collar may not be the most comfortable in routes, but it will help prevent pain and stiffness.
---
Benefits of Pillow for Neck Arthritis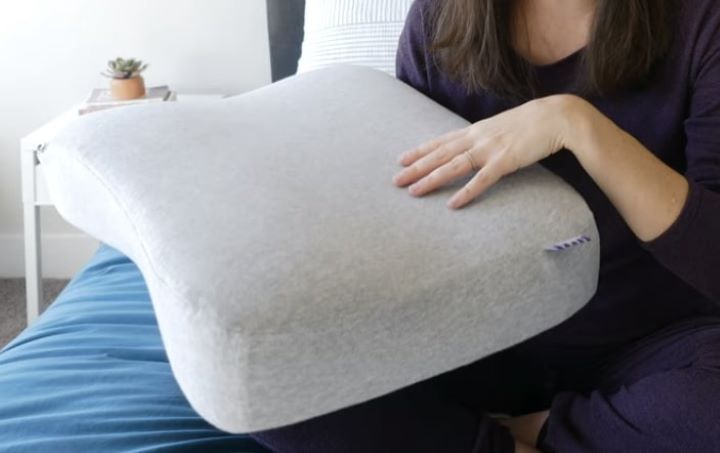 As you can deduct from the sleeping tips, the best pillow for neck pain should be at least flat and too tall . The type will depend on whether you sleep on your back or side.

Shape and Design – This pillow's ideal shape and design offer the best neck support and pain relief, particularly for individuals who sleep on their backs.
Adjustable – Adjustable pillow for neck arthritis such as a down or feather pillow, latex, or shredded memory foam pillow is ideal. You can position and adjust it to the perfect shape for the ideal support.
Support – Look at a pillow that supports your neck without tilting your head forward or backward, keeping your head well aligned with your spine.
---
How We Test and Score Pillows for Neck Arthritis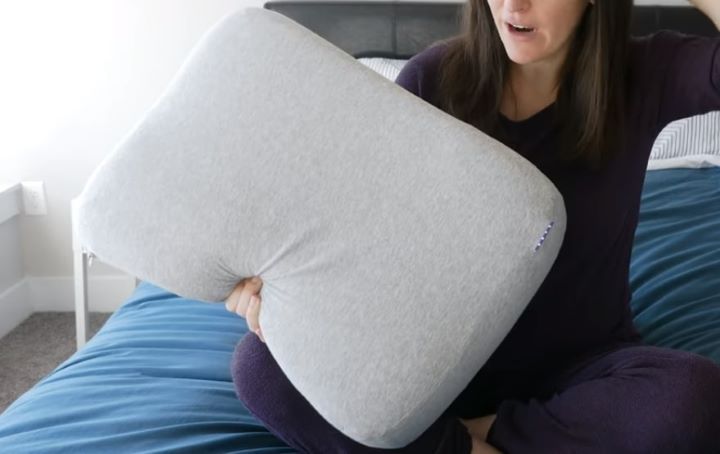 These reviews are based on intense research, analysis, and feedback from our experts and real users from different digital platforms.
We spent 25 hours trying, testing, and scoring these Pillows for Neck Arthritis for different key parameters and then shortlisted the best products in the market, saving you time and effort.
We used the following parameters for our tests and analysis.
Reduce Pain – We checked how extremely effective the pillows are at soothing skin and minimizing pain while sleeping.
Pressure Relief – We checked how well the pillows provide optimal alignment and pressure relief.
Support – We checked how well the pillows support the neck and help maintain better alignment.
Comfort – We checked how comfortable and safe the pillows were.
Budget-Friendly – We compared different pillows and found the most affordable and effective ones.
---
Frequently Asked Questions (FAQ) About Pillow for Neck Arthritis
---
Reviews: The Best Pillows for Neck Arthritis
Here are a few options in Pillows that you can consider to give you the best night's rest when you have neck pain or Arthritis:
We hope you love the pillows for neck arthritis we recommend!
We may collect a share of sales or other compensation from the links on this page.

---
1
---
2
This pillow comes in an ergonomic design that follows the curves of the neck for therapeutic support.
It is engineered to relieve pressure, provide personalized support, and promote spinal alignment.
The large pillow measures 20×12.8 inches in size and is 4.75 inches thick.
It is designed to retain its shape and comes with a Polyester knit Hypoallergenic cover.
| Rating Category | Weight % | Score |
| --- | --- | --- |
| Reduce Pain | 25% | 100 |
| Pressure Relief | 25% | 100 |
| Support | 20% | 90 |
| Comfort | 20% | 95 |
| Budget-Friendly | 10% | 90 |
| Total Score | 100% | 96 |
---
3
The D-Core Pillow from Core Products is the ideal shape and design to offer you the best neck support and pain relief, particularly for individuals who sleep on their backs.
Aids in alleviate neck pain and correctly aligns your spine while supporting your head and neck more naturally.
The patented D-shaped center cradles your head and has a built-in neck roll to support your neck and offer better cervical alignment firmly.
Available in different size options to best suit every individual.
It contains no latex and is filled with 100% polyester.
You can easily fit this pillow with a standard pillowcase.
Highly recommended for back sleeping.
| Rating Category | Weight % | Score |
| --- | --- | --- |
| Reduce Pain | 25% | 100 |
| Pressure Relief | 25% | 95 |
| Support | 20% | 90 |
| Comfort | 20% | 95 |
| Budget-Friendly | 10% | 90 |
| Total Score | 100% | 94.75 |
---
4
One of the most popular pillows on the market today is the My Pillow. This name keeps coming up everywhere, and rightfully so.
The My Pillow All Loft Levels Pillow that I have chosen will help alleviate neck pain by providing you with the
proper alignment and support while sleeping.
This pillow features different fill levels for every type of sleeper and different levels of support required.
Yellow offers the least fill, white a regular fill, green some more, and blue the most.
This pillow is filled with premium polyfoam that offers firm support and cushioned comfortfor any sleep position.
The interlocking fill design ensures that this pillow never loses shape.
Completely machine washable and quick drying.
---
5
ZAMAT's memory foam pillow is one of the best sellers on Amazon for the best pillow for neck arthritis.
This memory foam pillow is the best solution if you have sleepless nights due to your arthritic neck.
Besides, this contoured cervical pillow is designed to cradle the natural curve of your neck while providing incredible support for spine alignment.
Moreover, it is ergonomically sound and made with high-quality, odorless memory foam that is CertiPUR-US certified.
And the pillow can be adjusted to your liking by simply unzipping it and adding or removing the filling.
---
6
This pillow is an excellent option for keeping your head from rolling out of a stable position while you sleep.
Elvis's Cervical Memory Foam pillow is one of the best sellers on Amazon.
Reducing stress in the cervical vertebra and spine is best, thus improving sleep.
And the contour pillow is well-designed to support you by following the natural curve of your body to help relieve neck arthritis.
The outer cover is highly breathable and can be removed and machine-washed.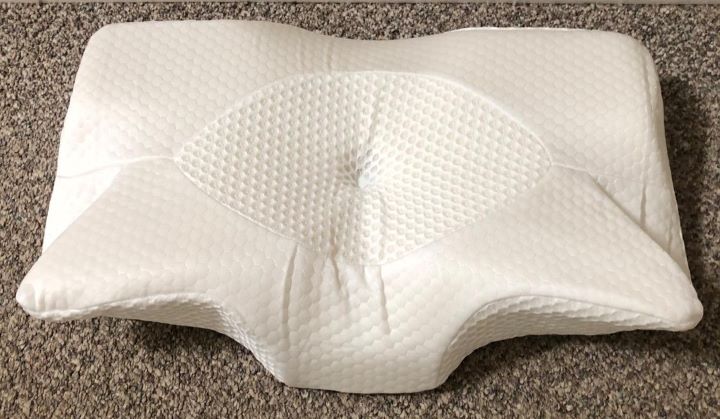 ---
7
The Nature's Guest pillow has an adjustable and supportive design for optimal neck and shoulder support.
Orthopedics and Chiropractors recommend it for health benefits.
Ideal for back and side sleeping.
Offers exceptional neck and shoulder support and pain relief.
Made from premium quality and hypoallergenic materials.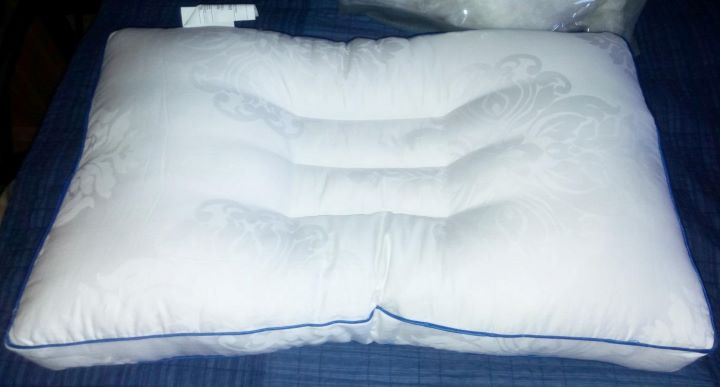 ---
8
A supportive and pain-relieving orthopedic cervical pillow for Arthritis in the neck area.
It is made from 100% rebound memory foam.
Contoured cervical design for optimal support.
Relieves pressure paint and pain.
It supports the natural curvatures of your neck and provides plush comfort.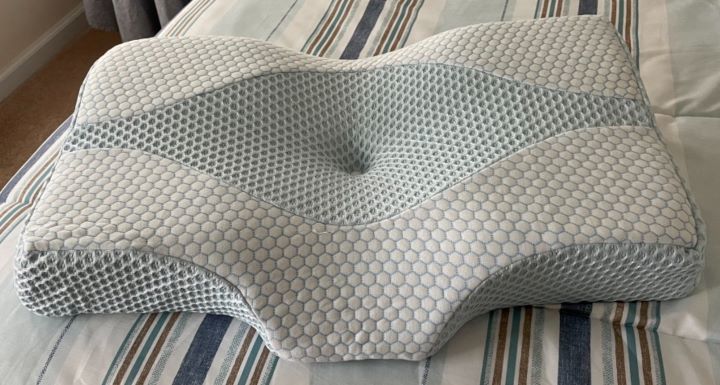 ---
9
A comfortable and contoured pillow for optimal neck comfort and support with a cooling silk pillowcase.
the Pillow has a contoured wave design for optimal support and comfort.
The wave design allows for better ventilation and moves heat away from your head and neck.
It comes with a removable hypoallergenic cover.
The Pillow consists of bamboo and charcoal infusions with a bamboo cover,
---
Index Table: Top Pillows for Neck Arthritis
---
---