There are mainly two types of Arthritis that can affect your neck area, leading to neck pain, which is Cervical Spondylosis and Rheumatoid Arthritis. Both cause pain and discomfort in your neck, which can be especially annoying when you try to sleep.
The right sleeping aids and position, including a good pillow, can make a huge difference to this regard, and provide you with a pain and discomfort free nights rest.
---
Arthritis in the Neck
Aging is unfortunately inevitable, and with age comes wear and tear, which causes aches and pains in the joints and spine, as well as many conditions, such as Arthritis.
Cervical Spondylosis is the most common type of Arthritis which affects your neck, usually due to age-related degenerative changes that take place in your spinal joints and discs.
Rheumatoid Arthritis is also a form of Arthritis that affects your joints that can cause pain and discomfort in the neck, Although it is more common in your hands and feet.
Osteoarthritis develops from around forty years of age and typically progresses from there as the year's pass, Osteoarthritis can likewise affect your neck.
---
Sleeping with Arthritis in Your Neck
Arthritis in your neck can cause great pain and discomfort when you are trying to sleep, which in turn affects your sleep patterns and results in you waking up tired and feeling quite unpleasant.
So here are a few useful tips for a more comfortable and pain-free night's rest if you suffer from an arthritic neck;
Sleep in a Spinal Alignment – Make sure that when you sleep, your head is perfectly in line with your spine, your head should never be bent forward or extended backward too excessively. For this reason, you should avoid a flat pillow which positions your head lower than your spine, remember that your head, in turn, is actually just an extension of your spine.

Avoid Stomach Sleeping – Sleeping ion your stomach twists your neck in a position where there is no natural or correct spinal alignment, causing much strain on your neck and shoulders.

Invest in a Good Supportive Pillow – When it comes to the perfect pillow for an arthritic neck, there is no reason to go for the most expensive choice, there are plenty of selections that will offer you just the right support. The main idea is for you to be able to confirm your chosen pillow and position it or them, in such a manner as to offer you the most comfortable sleeping position and the best support.

Pillow Width – A good pillow for neck pain or Arthritis should be wide enough to support the distance between your shoulders and neck, it should be adjustable so that you can shape and reshape it, and for side sleepers, it needs to fill the space between your mattress and your ear.

A Neck Collar – Another way that you can keep your neck in the correct alignment during the night, is to wear a soft neck collar. This may not be the most comfortable in routes, but it will certainly help to prevent pain and stiffness.
---
The Best Pillow Options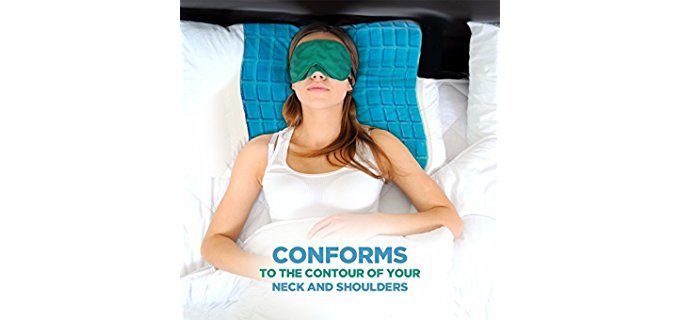 Well, as you can deduct from the sleeping tips, the best pillow for neck pain should neither be too flat, or too tall, and the type will much depend on whether you sleep on your back or side.
An adjustable pillow such as a down or feather pillow, or latex or shredded memory foam pillow is ideal as you can position and adjust it into the perfect shape for the ideal amount of support.
Look at a pillow that supports your neck without tilting your head forward or backward too far, keeping your head well aligned with your spine.
---
Reviews: The Best Pillows for Sleeping With Neck Arthritis
Here are a few options in Pillows that you can consider to give you the best nights rest when you have neck pain or Arthritis;
1
You are looking for something a little more on the natural side. This pillow is ideal if you suffer from allergies, and it similarly offers exceptional support and comfort, particularly for a painful, arthritic neck.
It is filled with highly supportive and comfortable shredded memory foam in a combination style that will never lose its shape, and provide you with the best head and neck support.
Covered with a Bamboo, polyester and lycra mix cover which has antibacterial, hypoallergenic, and cooling properties.
There are no zippers to irritate.
Durable and dust mite and allergen resistant, as well as being free from ozone depleters, flame retardants, mercury, lead, and other chemical substances.
Available in a standard, queen and king size option to choose from
---
2
The D-Core Pillow from Core Products is the ideal shape and design to offer you the best neck support and pain relief, particularly for individuals who sleep on their backs.
Aids in are alleviating neck pain,, and correctly aligning your spine while supporting your head and neck more naturally.
The patented D-shaped center cradles your head and has a built-in neck roll to support your neck and offer better cervical alignment firmly.
Available in different size options to best suit every individual.
It contains no latex and is filled with 100% polyester.
You can easily fit this pillow with a standard pillowcase.
Highly recommended for back sleeping.
---
3
One of the most popular pillows on the market today is the My Pillow, this name just keeps coming up everywhere, and rightfully so.
The My Pillow All Loft Levels Pillow that I have chosen will help to alleviate neck pain, by providing you with the proper alignment and support while sleeping.
This pillow features different levels of fill for every type of sleeper and different levels of support required.
The yellow offers the least fill, white a regular fill, green some more fill, and blue the most fill.
This pillow is filled with premium polyfoam that offers firm support and cushioned comfortfor any sleep position.
The interlocking fill design ensures that this pillow never loses its shape.
Completely machine washable and quick drying.
---
4
Down and Feather Pillows are one of the top choices when it comes to neck pain and neck arthritis relief. The Sable Super Soft is a Goose Down alternative, that is Hypoallergenic and adjustable, so you can select the type of support and firmness that best suits your needs.
A two Pack pillow option available in queen or king size selections.
You can remove or add filling to get the best firm or soft fit to suit your needs.
Registered with the FDA as an A-class 1 medical device to offer pain relief and provide good support.
The cotton cover is durable and breathable with wave patterns, manufactured from 100% pure cotton.
The soft and supportive fill made from rayon achieves and ideal balance of firm support and fluffy comfort.
Completely hypoallergenic and safe to use for anyone with allergies, as well as an antibacterial to keep you in peak health.
Easy to wash in the machine and quick drying.
---
5
The real deal from Peace Nest, a 100% genuine down and feather pillow, perfect for stomach sleepers who suffer from neck or shoulder pain.
Willed with pure and reliably sourced feathers and down for a medium-density adjustable fill that is soft and firm.
Covered with a breathable and durable 100% cotton shell.
Available in different size options.
Offers plush comfort yet firm and reliable support to alleviate pain and discomfort.
Ideal for neck and shoulder pain.
Easy to clean; just follow the washing instructions.
Naturally, dust mite resistant, and breathable.
---
7
The Natures' Guest pillow has an adjustable and supportive design for optimal neck and shoulder support.
It is recommended by Orthopedics and Chiropractors for health benefits.
Ideal for back and side sleeping.
Offers exceptional neck and shoulder support and pain relief.
Made from premium quality and hypoallergenic materials.
---
8
A supportive and pain-relieving orthopedic cervical pillow for Arthritis in the neck area.
It is made from 100% rebound memory foam.
Contoured cervical design for optimal support.
Relieves pressure paint and pain.
Supports the natural curvatures of your neck and provides plush comfort.
---
9
A comfortable and contoured pillow for optimal neck comfort and support with a cooling silk pillowcase.
Offers contoured neck support for pain and pressure relief.
Additional ear pocket for less pressure on your ears.
It comes with a COOL silk pillowcase that breathes and keeps cool during the night.
U-Shaped design for better neck and shoulder support.
---
10
This pillow comes in an ergonomic design that follows the curves of the neck for therapeutic support.
It is engineered to relieve pressure and provide personalized support and promote spinal alignment.
The large pillow measures 20×12.8 inches in size and is 4.75 inches thick.
It is designed to retain its shape and comes with a Polyester knit Hypoallergenic cover.
---
Index Table: Top Pillows for Neck Arthritis
---
---