Sleep is the most important thing for a healthy mind and body.
Anything that disturbs our sleep can affect our everyday life, be it chills or night time sweats. Gel pillows can be used to solve the latter problem.
Read on to find out all there is to know about Gel Pillows and the best options available.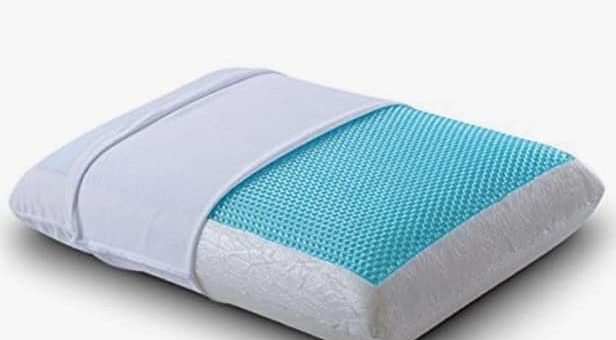 ---
Gel Pillows
What It Is – Popularly called a "Chillow," a gel cooling pillow is the best solution for sleep ruined by night sweats. Gel pillows come in a variety, with different textures and fillings.
How It Works – The technology used in gel pillows is borrowed from NASA. The cooling gel inside the pillow absorbs body heat via conduction and dissipates it, leaving you with a cool feeling.
Who Should Use It – Anyone who suffers from night time sweating or people living in hot and humid areas should definitely try using cool gel pillows. It has also been shown to reduce Insomnia in some cases.
---
Benefits of Gel Pillows
Peaceful Sleep – Humans have been working towards finding the ultimate cool surface to sleep on for eons. The head releases more heat at night than any other body part. This may lead to some pillow flipping episodes during the night. Using a cooling gel pillow can solve this problem.
Relieves Insomnia – People with Insomnia have trouble sleeping uninterrupted throughout the night, or even to go back to sleep after they have woken up. A cooling gel pillow can help with the latter problem. It can help insomniacs fall asleep quickly because of the cooling feel it provides.
Improves Skin Quality – Lack of sleep can result in dull skin, along with dark circles. As gel pillows allow the user to sleep throughout the night, it has a positive effect on the quality of the skin and makes it more youthful and fresh.
Reduces the Risk of Breakouts – Due to the release of heat at night, a lot of oil also comes out on the face. This may result in clogged pores and breakouts. As the gel pillows absorb the heat, the chance of breakouts and skin issues drops considerably.
Back and Neck Support – Gel pillows usually come in adjustable varieties to provide support to the neck and back. Some gel pillows are even made, especially Orthopedic for people with serious Bone problems.
Better Air Circulation – Some gel pillows are designed with micro-events inside them. This fact can help tremendously during the hot months, or people living in hot and humid areas by providing optimum air circulation and keeping them cool and comfortable.
---
What to Look for in a Gel Pillow
Comfort – The first consideration in buying a pillow should always be a comfort. Make sure the pillow is soft enough, four head while still being able to provide support and shape.
Design – For people with orthopedic problems, it is important to take into consideration the design and shape of your pillow. Choose an adjustable pillow or go for one that is specially designed for orthopedic patients.
Qualities – Gel pillows come in a wide variety with special qualities, such as made with organic materials, or having memory foam inside, or hypoallergenic.
Price Range – Last but not the least, make sure you are not being ripped off. There are a lot of high-quality gel pillows available in the market with a very reasonable price tag.
---
Reviews: Best Gel Pillows
Reviewed down below are some of the best gel pillows we could find to solve all your night time problems.
---
1
This pillow is made from special Tempur Technology with a double gel layer on both sides.
The combination of the cooling memory foam and the double gel layer keeps you cool, fresh, and peaceful throughout the night.
The material in this pillow adapts according to your head, neck, and shoulders to provide optimum support.
The medium feel it offers allows for a restful sleep for all types of sleepers.
This product comes with a premium quilted removable cover made from breathable material.
Tempur-Pedic guarantees the durability and longevity of the shape, support, and quality of their products.
Score:
98.7
By Daniel Max
---
2
This product is suitable for all weather conditions, whether warm or cold.
It comes with a cooling gel layer on one side for warm nights and a memory foam layer on the other side for colder months.
The soft memory foam on one side cradles the head and neck and provides maximum support to the shoulders as well by retaining its shape.
This product is specifically designed to be orthopedic.
The cooling gel regulates temperature by absorbing and dispersing heat from the body. It also provides air ventilation and keeps it flowing for a fresh feel.
It comes in a medium plush feel and is ideal for side, back, and stomach sleepers.
Classic Brands' pillow is naturally Anti-microbial and Hypoallergenic.
The dual-sided pillow comes with a removable and washable mesh knit cover.
Score:
97.5
By Daniel Max
---
3
This luxury pillow provides an excellent balance between fluffy and firmness to allow for the most peaceful sleeping experience.
The filling is Poly gel fiber to provide maximum comfort in all sleeping positions.
The plush gel pillow comes in a cover made from 100% cotton that is breathable and washable.
This hypoallergenic and chemical-free product is designed to fill all the needs of people suffering from Asthama, Respiratory conditions, and Allergies.
Score:
96.8
By Daniel Max
---
4
This pillow is made from a unique combination of orthopedic memory foam and cooling gel.
It can help reduce neck and back pain caused by uncomfortable sleeping.
MY M uses an exclusive technology of Open-Cell Viscosity memory foam that adapts to your head and neck and provides maximum support and comfort.
The cervical care pillow comes in a hypoallergenic cover to reduce the risk of allergies.
This product has memory foam on one side and a cooling gel layer on the other side to cater to all your needs.
Score:
95.9
By Daniel Max
---
5
Weekender uses CertiPUR US certified memory foam, infused with a gel, in this design.
The memory foam provides softness and support, whereas the gel regulates temperature and allows for a cooling feeling as you sleep.
The unique ventilated design of this pillow maximizes air circulation to keep you fresh and comfortable during the night.
It comes with a removable and washable cover.
Score:
95.1
By Daniel Max
---
6
The soft, gel-infused memory foam and microfiber fill blend of this pillow allows for a cooler and restful sleeping experience.
The unique design allows you to adjust the fill according to your needs, to provide the ultimate support in any sleeping position.
Coop Home Goods' pillowcase is made luxury Lulltra fabric, which is a blend of bamboo-derived viscose rayon and polyester. This cover is breathable, dust mite resistant, and hypoallergenic.
This product is third-party tested, CertiPUR-US, and GREENGUARD Gold Certified, and free of any toxic chemicals.
Score:
94.2
By Daniel Max
---
9
This is a reversible bed pillow with a memory foam side and a cooling gel side.
The memory foam is pliable and molds to the contours of your body.
The Cooling Gel keeps you cool and dissipates heat.
A removable and washable pillowcase is included.
---
10
A supportive and ergonomically shaped gel pillow.
It offers excellent head and neck support and pain relief.
Medium-firm memory foam infused with a cooling Gel.
It comes with a removable and washable cover.
---
11
A well ventilated and supportive Gel Pillow.
Memory foam and cooling Gel fill.
Two-sided making it ideal for all seasons.
Ideal for any sleeping position.
---
Index Table: Top-Rated Gel Pillows
---
---