Some of the links in this post are affiliate links. This means if you click on the link and purchase the item, I will receive an affiliate commission at no extra cost to you. All opinions remain my own.
The Lavender Infused Pillow is a pillow design that has become increasingly popular for its soothing and comforting properties.
Lavender is known to be naturally calming, as an essential oil, and ideal for many other benefits.
Did you know that lavender also repels insects and has antibacterial properties?
In this article we will look at some of the many outstanding benefits of Lavender infused Pillows.

---
The Lavender Pillow
The Lavender Pillow is a pillow that usually has a memory foam or foam fill infused with Lavender oils, or the cover may be infused with lavender.
The Lavender pillow has a soothing scent and provides natural calmness and stress relief.
Lavender pillows also help reduce pain and migraines along with relaxing you.
---
The Benefits of Lavender infused Pillows
Here are a few great benefits of Lavender infused Pillows;
Most Lavender Pillows are Natural – The Lavender used is all-natural in the lavender-infused pillows, and many of them have natural bamboo or cotton covers. These factors ensure that the pillows are safe, hypoallergenic, and truly effective.
Improve Sleep – Lavender as an essential oil is proven to promote calmness and induce sleep as it calms and relaxes you. Along with the comfortable design of the pillow, you can enjoy a good night's rest and feel refreshed in the morning.
Pain Relief – Lavender-infused Pillows can provide more comfortable and calming sleep, and because most of the designs are memory foam and healthy pillows, they fully support your neck, back, and shoulders. Most Lavender pillows have a well-balanced design to provide proper alignment and comfortable, soothing sleep.
Great Scent – Lavender-infused pillows have a lovely floral scent that can help to reduce bad odors. The lavender scent also helps to improve breathing.
Natural insect repellent – Lavender similar to citronella oil is naturally insect repellent. The Lavender infused in your pillow will surely help to ward off mosquitos, dust mites, and other creepy crawlies that may bother you during the night.
---
Features of a Good Lavender Infused Pillow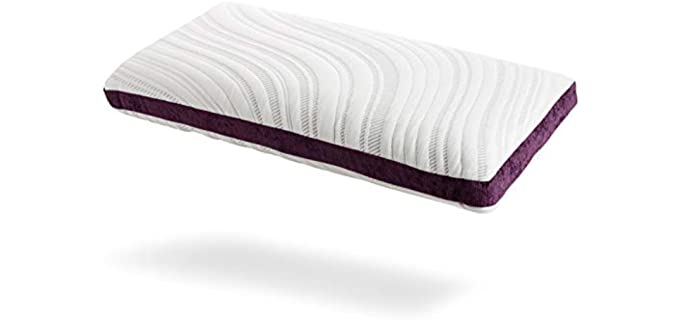 Fill – The Lavender infused Pillows may have a polyester or memory foam fill that is infused with lavender essential or aromatherapy oils. Most pillows have Microchannel or dual-sided ventilation for cooling.
Cover – The cover may be fixed or removable for washing. The cover can consist of cotton, polyester or bamboo.
Options – The Lavender infused pillows may have more size options available besides the standard or Jumbo sizes, such as Queen and King sizes. However, there are usually only standard-size opinions available. Most of the pillows we have selected are standard design, though there are some cervical and contoured support Lavender Infused Pillows available.
---
Reviews: The Best Lavender Pillows
Listed below are some excellent models of pillows that are all infused with Lavender, for its soothing properties;
---
1
---
2
From Samiral, we have the perfect Lavender infused pillow for you.
The lavender-infused pillow has a memory foam fill infused with pure lavender to soothe you to sleep.
It is a premium comfort contoured pillow ideal for side and back sleeping,
The memory foam is cooling and will not overheat during the night.
It has microchannel dual-sided ventilation for breathability.
---
3
The Lucid lavender-scented soothing pillow is plush and comfortable.
Lucid is likewise a top brand when it comes to pillows and mattresses.
The Pillow has a plush memory foam filled with a lavender infusion that creates a relaxing sleep environment.
The pillow cradles your neck, head, and shoulders in the perfect sleeping position.
It offers dual-sided ventilation to keep you cool and comfortable,
The memory foam fill is Certi-Pure certified and quality.
---
4
From Brookstone, we have the BioSense lavender-infused pillow for you.
The pillow has memory foam that has Aromatherapy seat lavender to soothe you to sleep, infused into the foam layers.
It is a comfortable pillow that reduces pressure and conforms to the shape of your pillow.
The pillow has a ventilated design that allows for a cool and weightless sleeping experience.
---
5
The Perfect Cloud Lavender infused pillow is a Blissful Lavender Oil infused memory foam bed pillow.
The pillow has a 5.5-inch thickness air-infused memory foam fill.
The loft is medium, and the pillow is a queen size.
The pillow has a weightless and pressure-relieving design, with a lavender infusion that is soothing and calming.
It is also available in a few more size options.
---
6
The Bamboo Lavender infused pillow from Shlufis absolutely wonderful.
The pillow has a premium quality memory foam fill infused with lavender oils.
The Pillow has a bamboo cover, and the lavender used is natural.
It is ideal for all sleeping positions and has a comfortable loft.
You get one pillow per purchase.
---
7
Another Addition from SensorPedic is their Wellness Collection and Fiber Lavender infused bed pillow.
It has a 100% pure cotton cover that is hypoallergenic and natural.
The Pillow has a plush hypoallergenic fill that is infused with lavender.
The cotton cover has a 300 thread count and is very soft.
The pillow is a Jumbo size and is fully machine washable.
---
8
From Sutera, we have a Lavender Zen Pillow that is infused with all-natural Lavender for its soothing and claiming properties.
The Pillow has a lavender-infused memory foam fill that contains a natural lavender essential oil.
There is microchannel ventilation to keep you cool and comfortable.
The pillow offers excellent pressure relief and soothing comfort.
It is a weightless and premium design pillow that while ensures comfortable and peaceful sleeping all night long.
---
Index Table: Top Rated Lavender Pillows
---
---