Some of the links in this post are affiliate links. This means if you click on the link and purchase the item, I will receive an affiliate commission at no extra cost to you. All opinions remain my own.
Just as your sheets, pillowcases, and blankets get washed regularly, your mattress and pillows also need a good wash or clean to stay fresh, germ-free, and well-maintained. However, you will wash your mattress and pillows less frequently and differently.
Pillows can contain many materials in the fill and cover, which may require different cleaning and care methods.
This article will give you the best advice and tips on washing various Pillow Types without causing damage to the pillow or reducing its functionality.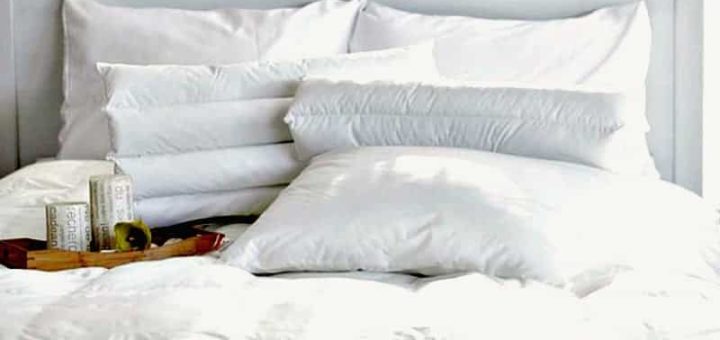 ---
Types of Pillows and Their Washing Requirements
Firstly we need to understand the materials of every pillow. Usually, the f cover is made from Bamboo, cotton, or synthetic materials, which you can wash in any way. Still, the Fill of the pillow may be a different story altogether.
Memory Foam Pillows – Memory foam can easily be shredded in a washing machine and melted in a dryer at a higher heat or even in very hot sunlight. Therefore, it is advised to hand wash your memory foam pillow and not fully submerge it in the water. For drying, choose a cooler well-ventilated area out of direct sunlight.
Cotton, Feather, Fiber Fill, and Shredded Foam Pillows – Unlike solid memory foam, shredded memory foam pillows may be washed in a washing machine, along with cotton feathers and fiberfill pillows. I will suggest your most gentle wash cycle, however. Tumble drying is still not advisable, particularly for memory foam, although it is okay for cotton, feather, down and fiber fills at a lower heat.
Wool Pillows – You can fully submerge a wool pillow in water either for hand washing or in a large washing machine to prevent the wool from clumping together. Once again, use the gentle cycle and air dry your pillow away from direct sunlight.
Buckwheat Pillows – Never get your Buckwheat Hulls wet, you will have to remove them, wash the pillowcase or cover, and refill it again. Or you may need to wipe down the pillow with a damp cloth.
Microbead Pillows – With Tiny Polystyrene beads making up the Fill of your Microbead pillow, washing can be very messy if there is a tear in the cover, so hand washing or gentle machine wash is advised, and a gentle tumble dry at low heat, or air drying. I would suggest placing the entire pillow in a tied-up pillowcase for extra safety.
---
Step By Step Washing instructions for Cotton, Down and Synthetic Pillows
Remove The Casing – Remove your PillowCase and the protective case or cover that your pillow came with.
Placing – Place your Pillow in the Washing Machine or container for handwashing and add warm water or cold water, following the Pillow label's instructions.
Add Detergent – You can use your general fabric detergent and a bit of dishwashing soap for a deeper clean. Make sure to add the right quantities for the load.
Start Cycle or Washing – If you are machine washing, you can start the GENTLE cycle, if not, you can hand wash your pillow.
Rinse – For handwashing, you will need to rinse and hand dry your pillow, similar to the machine's functioning.
Drying – hand your pillow up to air dry, or place it in the tumble dryer on cool to moderate drying heat. Remember that memory foam should not be in direct sunlight or a tumble dryer. Make sure your pillow is completely dry before placing it back on your bed.
Washing Your Pillow Cover
Regarding your pillow covers, they will usually be made from natural cotton or bamboo or synthetic polyester or microfiber. I would suggest following the instructions on the labeling. However, these pillowcases can all be washed safely with normal detergents on a normal cycle in our washing machine and line dried or even tumble-dried if required. Once again, ensure that the covers are thoroughly dried before placing them back onto your pillows.
In the case of the Buckwheat Pillow, after washing the casing or cover, the Buwcheat hulls need to be replaced into the pillowcase at the loft that you desire. Once again, ensure no dampness as this is very bad for Buwheat and can cause mold.
---
Tips to Maintain Your Pillows
Follow the Instructions – Always follow the instructions given on the label of your pillow and pillowcases to the "T" to use the correct washing method, water heat, and detergents for your pillows. Also, check for the correct drying methods for your pillow type, keeping in mind that memory foam can melt.
Use Quality Soaps and Detergents – Use good quality detergents and avoid harsh abrasives and bleaches if possible. Some dishwashing liquid may be safe enough to add for more intense cleaning. Some Pillow may also be bleach safe but check the labels first. Bleach can help to whiten dull and yellow-stained pillows.
Rinse properly – Make sure you rinse your pillow thoroughly, as the soap can cause a strong smell, and the filling clump and stick together.
Dry your Pillow properly – Your pillow needs to be dry to the core before placing it back on your bed, as any wetness can become molded and dangerous eventually.
Pillow Covers – To give your pillow extra protection and reduce how regularly you need to wash them if you need to ash them, use a protective Pillow Cover. A waterproof pillow protector cover will keep even the smallest dust and dirt particles, dust mites, and germs out of your pillow and protect it against spills, dirt, and body oils. In the end, you may only need to wash your Pillowcase. Just make sure to replace the Protective cover if it becomes damaged because it is no longer effective.
---
---
---