Microfiber is a material that has been around for many years, and recently, Microfiber Pillows started gaining much popularity as the Down Alternative synthetic pillow made its rounds.
Microfiber is made from Polyester and Nylon fibers that are spun to be much thinner than a human hair or even a silk thread, making it ultra-soft.
---
---
Microfiber and Its Benefits
Microfiber has an ultra-fine fiber composition, making it extremely soft and plush, almost directly mimicking the feel of down feathers inside a pillow or duvet inner.
Microfiber has quickly become a popular choice in pillows, fills, and covers and is becoming more sought after by the day.
Insulated – Microfiber offers excellent insulation properties and mimics the feel and insulation of down feathers.
Lightweight and Soft – Microfiber is extremely lightweight, plush, and soft, giving a soft to medium feel in high-density volumes to your pillow.
Compatible with Other Fibers – Microfiber can be treated with anti-microbial and blended with other fibers and technologies without any issues as it is highly compatible.
Hypoallergenic – Microfiber will not cause any allergic reactions, such as down and feather options, thus making it the perfect alternative.
Breathable – Microfiber is highly breathable because its thin fibers and clusters will not trap sweat or moisture.
Budget Frienldy – One of the favorites is the fact that Microfiber is most likely the cheapest fiber option you will find when it comes to pillows and pillowcases.
---
Some More Excellent Benefits of a Microfiber Pillow and Pillowcase
Besides the above, Microfiber can be used as fill and as a pillowcase material.
As a Pillowcase material, Microfiber is breathable, durable, and has a satiny soft finish that is gentle and comfortable against the skin. Microfiber dyes easily and keeps its color much longer, even with frequent machine washing.
Microfibre can be in clusters, whole, or even microbeads, making it even more versatile, creating a different feel and adjustability level to your pillow.
---
Features of a Good Microfiber Pillow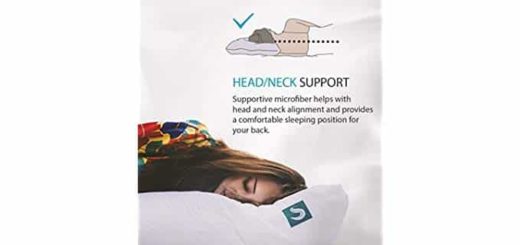 Breathable and lightweight Polyester, Microfiber Sheel or Cotton Pillowcase.
Quality stitching and manufacturing with piped or seamed edges and a zipper or envelope closure design.
Filled with Premium Microfiber, Microfiber Beads, or a Polyester Microfiber Blend.
Soft or Medium-firm feel and plush luxury comfort.
---
Reviews: The Best Microfiber Pillows
Below are some of the best quality and top brands in Microfiber Pillows;
We hope you love the products we recommend!
We may collect a share of sales or other compensation from the links on this page.
---
1
---
2
The AmazonBasics Microfiber Pillow is top-class and sought after by many happy customers.
FilleIt is filled with soft and plush Microfiber and covered in a luxury soft microfiber shell.
It comes in a standard-size two-pack option.
It is a very plush and dense pillow and is ideal for individuals with allergies.
Mimics a feather and down pillow in firmness and support.
---
3
The Sleepgram Premium Microfiber Down Alternative Pillow gives you the comfort of a down feather pillow without allergies and the price tag.
A fully adjustable microfiber fill pillow covered in a durable and breathable 100% cotton cover.
Completely >Hypoallergenic and dust mite resistant.
Excellent ventilation and promotes proper alignment and sleeping patterns.
Soft and plush loft ideal for all sleeping positions.
---
4
The Evolive Ultra Soft Medium Density Microfiber Pillow is a long, comfortable body pillow design.
The ideal pregnancy or just full-body support long body pillow.
It is filled to a medium density with Microfiber for firmer and more comfortable support.
The shell consists of soft and durable microfibre and is not removable.
Easy to sport, clean, and breathable design.
---
5
The Celeep Microfiber Pillow is a No Shift, Dust Mirte resistant, and Hypoallergenic Down alternative pillow.
Different sizes and packaging options are available.
It is made from 1005 pure Microfiber and Polyester filling with a soft and comfortable cover.
Completely Dust Mite and Mold resistant as well as Hypoallergenic.
Ano Shift design that will not cluster or bunch up when you sleep.
It is very easy to wash and care for and extremely durable.
---
6
The Big One Microfiber Pillow is another top-of-the-line Microfiber Pillow with a standard size selection.
A soft, comfortable microfiber shell and plush and soft fill for adjustable comfort.
It has a durable, breathable design that can be machine-washed and dried.
It also comes in a queen-sized option that you can choose from besides the original standard size.
Quality and craftsmanship that lasts and does not disappoint.
---
7
A super-soft Down Alternative Microfiber Pillow.
It is made from premium Microfiber for the fill and 100% pure cotton for the cover.
Adjustable with a high rebound and available in multiple fill options for a softer or firmer pillow.
Completely hypoallergenic and breathable.
---
8
A premium Microfiber Filled pillow with an Egyptian Cotton Cover.
The Pillowcase has a 1200Thread Count, which is very high.
Seamless design and breathable materials.
An Excellent down alternative pillow that is hypoallergenic.
---
9
A two-set Microfiber Pillow.
Available in a standard or queen-sized option.
Breathable and light materials with a premium Microfiber fill.
Noise-free and hypoallergenic alternative.
---
10
The pillow is high-quality and made with brushed microfiber.
It comes encased in a super-breathable fabric that provides a cooling sensation.
The ultra-soft pillow is long-lasting and resistant to stains, wrinkles, and fading.
It is machine washable, hypoallergenic, resistant to dust mites, and easy to care for.
---
11
This pillow is made using 100% high-quality, imported Microfiber.
It is designed for people who like larger pillows.
This package includes a set of 2 microfiber pillows measuring 20×28 inches in size.
It is machine washable and dryer safe.
---
Index Table: Top Rated Microfiber Pillows
---
---