Microfiber is a material that has been around for many years, and recently Microfiber Pillows started gaining much popularity, as the Down Alternative synthetic pillow made its rounds.
Microfiber is made from Polyester and Nylon fibers that are spun to be much thinner than a human hair or even a silk thread making it ultra-soft.
---
Microfiber and Its Benefits
Microfiber has an ultra-fine fiber composition, which makes it extremely soft and plush, almost directly mimicking the feel of down feather inside a pillow or duvet inner.
Microfiber has fast become a very popular choice in both pillows fills and covers, and are becoming more sought after by the day.
Insulated – Microfiber offers excellent insulation properties and mimics the feel and insulation of down feathers.
Lightweight and Soft – Microfiber is extremely lightweight, plush, and soft and gives a soft to medium feel in high-density volumes to your pillow.
Compatible with Other Fibers – Microfiber can be treated with anti-microbial and blended with other fibers and technologies without any issues as it is highly compatible.
Hypoallergenic – Microfiber will not cause any allergic reactions such as with down and feather options, thus making it the perfect alternative.
Breathable – Microfiber because of its very thin fibers and clusters is highly breathable and will not trap perspiration or moisture.
Budget Frienldy – One of the favorites is the fact that Microfiber is most likely the cheapest fiber option you will find when it comes to pillow and pillowcases.
---
Some More Excellent Benefits of a Microfiber Pillow and Pillowcase
Besides the above, Microfiber can be used both as fill and as a pillowcase material.
As a Pillowcase material, Microfiber is breathable, durable, and has a satiny soft finish that is gentle and comfortable against the skin. Microfiber likewise dyes easily and keeps its color much longer even with frequent machine washing.
Microfibre can be in the form of clusters, whole or even microbeads, which makes it even more versatile, which creates a totally different feel and adjustability level to your pillow.
---
Features of a Good Microfiber Pillow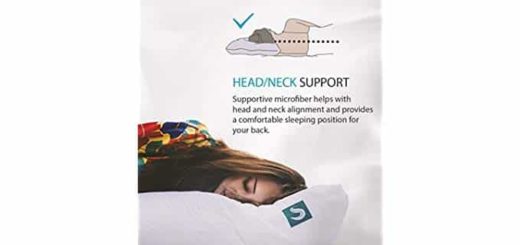 Breathable and lightweight Polyester, Microfiber Sheel or Cotton Pillowcase.
Quality stitching and manufacturing with piped or seamed edges and a zipper or envelope closure design.
Filled with Premium Microfiber, Microfiber Beads, or a Polyester Microfiber Blend.
Soft or Medium-firm feel and plush luxury comfort.
---
Reviews: The Best Microfiber Pillows
Below are some of the best quality and top brands in Microfiber Pillows;
---
---
---
---
---
---
---
---
---
---
---
---
---
---
Index Table: Top Rated Microfiber Pillows
---
---