Some of the links in this post are affiliate links. This means if you click on the link and purchase the item, I will receive an affiliate commission at no extra cost to you. All opinions remain my own.
Nothing like a luxuriously relaxing bath after a long and stressful day.
Well, now you can enhance the pleasure and relaxation with a soothing and supportive bath pillow to cradle your body into absolute bliss.
---
Benefits of a Bath Pillow
Lying down in a warm and refreshing bath can help you unwind and relax your muscles, making you feel good and resting your aching muscles.
Although, lying in a bathtub for extended periods and frequently without proper support can cause more strain and damage than good.
We highly recommend investing in a bath pillow to offer the correct support and positioning to prevent injuries and damage to your neck, back, and shoulders.
A bath pillow offers you the correct posture to reduce the risk of neck and back pain from extensive pressure.
The combination of hot water, bath products, and a bath pillow aid in relieving stress and calming your muscles.
The bath pillows support your back, neck, and shoulders in such a manner as to relieve pain and soothe the muscles.
Your bath experience will be much more comfortable overall, and you can rest peacefully in a comfortable and tranquil environment, easing stress and negative energy.
---
Using and Maintaining Your Bath Pillow
To use your bath pillow and ensure your complete comfort and safety, I recommend that you carefully follow the given instruction manual.
Most bath pillows come with suction cups that hold them in your bathtub; you will; need to find the ideal spot to place your bath pillow and then press firmly on the suction cups to seal them tightly. Some bath pillow models come with a counterweight, which you can hang over the tub's edge, ensuring that it stays in place.
Ensure you clean your bath pillow regularly to prevent the build-up of soap scum and mildew or mold. Wash it with anti-bacterial soap, and always allow your bath pillow to dry properly after washing or use.
---
Choosing a Bath Pillow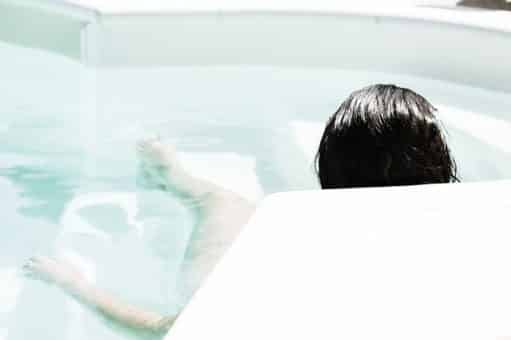 There are two factors to consider when choosing the best bath pillow, and they are DURABILITY, and USE.
Ensure that the materials used in your bath pillow are strong and durable and can withstand mildew and mold; the mesh is likewise a great option, as is a plastic waterproof cover that you can easily wipe down.
The shape and cushioning that the bath pillow offers to depend on precisely what you need. There are bath pillows available that cradle your neck and shoulders and full-body pillows that provide light cushioning for your entire body.
---
Reviews: The Best Bath Pillows
We hope you love the products we recommend!
So that you know, We may collect a share of sales or other compensation from the links on this page.
---
1
---
2
This bath pillow is made with 3D Mesh Fabric that allows constant airflow and helps the pillow dry swiftly.
The pillow envelops your neck, head, and shoulder and provides excellent comfort.
This beautiful pillow has four extra-strong suction cups that keep the pillow firm and attached to the bathtub.
A built-in handy hook is available for hanging the pillow for the drying process.
The pillow is extremely comfortable and gives you the pleasure of enjoying the bath most pleasantly.
---
3
Support and relieve stress and strain from your head, neck, and shoulders while taking a soothing and relaxing long bath with the GripMax Premium. No slippage with this power grip pillow!
This pillow comes with seven strong suction cups to eliminate pesky slippage risks.
I look forward to 1.5 inches of plush foam padding to relieve neck and shoulder pain while you relax in the tub.
A large two-panel design to support your neck and shoulders fully.
Completely waterproof covering and quick-drying to likewise prevent mold and mildew from developing.
---
4
Detoxify and unwind your entire body with the QuiltedAir full-body bathtub cushion that will give you comfy, cushioned support from head to toe.
A lightweight and slim body bath cushion with 3-D mesh technology and quilted layers.
An air core lifts the cushion to gently cushion your body with unmatched permeability and flexibility; there likewise will be no puncturing this cushion.
It allows you to lie down and rest your head and body in a comfortable and neutral position.
Eleven suction cups keep this bath pillow strongly in place.
Easy to clean, machine, and hand washable.
---
5
Enjoy the durable orthopedic and cushioned design of the Viventive Luxury Spa bath pillow. Ideal for supporting your back, head, neck, and shoulders, and likewise fits any size tub.
Soft with a deep inner filling of four thick supporting cushioned comforts for your head, neck, back, and shoulders.
Contoured shape and two-panel orthopedic design that cradles around your head, neck, shoulders, and back.
It will fit any tub type, with four extra-large suction cups and a flexible hinge, adaptable to any tub type.
Durable and easy to care for.
The anti-bacterial mesh materials allow water and air to flow easily, allowing quick-drying and preventing mold and mildew development.
---
6
The Gorilla Grip Original will ensure no slippage, and a durable and comfortable bath pillow is ideal for the tub, spa, and Jacuzzi.
Seven powerful suction cups keep the Gorilla Grip firmly in place.
It has two panels with ultra-plush and luxuriously comfortable foam.
Large enough to support your neck, head, back, and shoulders as you lay back.
It will easily fit in any tub, Jacuzzi, or spa bath.
Covered with a waterproof, non-porous covering that you can wipe down to clean.
---
7
A full-body bath cushion bed from Sur Soul for full comfort.
A full-body cushion bath bed made from thick and soft PVC.
No-slip design with suction cups.
Spa cushion with added head cushion for neck and head support.
Safe to use and very quick drying.
---
8
Cradles your head, neck, and shoulders.
There are six-strength suction cups for slip resistance.
A light and breathable 3D quilted mesh outer fabric for breathability and ventilation.
Convenient and machine-washable design.
---
9
This Samplife pillow is built with Unique 3D Air Mesh Technology that allows air and water to permeate through its mesh and helps it to dry quickly.
The pillow is flexible and can adjust to all bathtubs without any issue.
The pillow provides perfect support for your neck, head, and back and keeps you relaxed throughout the bath.
A hook is included in the pillow to hang it after use to dry out more efficiently.
---
10
The Monsuri pillow provides the best bathing experience with highly relaxed neck and back support.
The pillow has an extra-soft padding cushion that helps relieve the stress and lets you enjoy your bath to the fullest.
The pillow is waterproof, which keeps the pillow dry, and there is no need for any maintenance.
The pillow is firm enough to rest on the bathtub without sinking in, helping you enjoy the bath more.
---
11
This bathtub pillow is designed with extreme keenest and provides you with a blissful bathing experience.
The 3D ventilation technology allows constant refreshing airflow and makes the pillow dry more quickly.
Unlike the other pillows, it has six suction cups that provide great stability and firmness to the cushion.
The pillow's stitching has been done with a premium wave pattern that provides support for joints & muscles.
---
12
This Blue Coast Collection bathtub pillow is one of the best pillows in its category.
The pillow has been made using high-quality materials that provide the greatest comforts of all time.
Simple to remove suction cups are attached to the pillow to drain out the water or any soap residue.
The pillow provides the premium and luxury of bathing in a five-star hotel with its highly relaxed texture patterns.
---
13
The pillow has six extra-large suction cups attached to it that support the pillow and ensure it stays in its position.
The pillow consists of elevated sides that help the muscles relax and provide a stress-relieving bath.
The 3D breathable air mesh prevents your skin from sticking to the pillow and quickly drying the pillow.
The pillow comes with a machine washable washing bag that prevents suction cups' breakage in the washing machine.
---
In Conclusion
Don't we all love to spend a relaxing hour or two in the bathtub, filled with warm water, soaking in luxurious foam and bath salts? There is nothing compared to this when you need to relax and unwind from all the day's stress.
Therefore investing in good quality and durable bath pillow can ensure you are guaranteed this enjoyable experience for many years to come!
---
Index Table: Top-Rated Bath Pillows
---
---