There's nothing like a luxuriously relaxing bath after a long and stressful day.
Well, now you can enhance the pleasure and relaxation with a soothing and supportive bath pillow to cradle your body into absolute bliss.
---
Benefits of a Bath Pillow
Lying down in a warm and refreshing bath can ideally help you to unwind and relax your muscles, making you feel good and resting your aching muscles.
Although, lying in a bathtub for extended periods and frequently without proper support can cause more strain and damage than good.
This is why we highly recommend that you invest in a bath pillow to offer you the correct support and positioning to prevent injuries and damage to your neck, back, and shoulders.
A bath pillow offers you're the correct posture to reduce the risk of neck and back pain from extensive pressure.
The combination of hot water, bath products, and a bath pillow aids in relieving stress and calm your muscles.
The bath pillows support your back, neck, and shoulders in such a manner as to relieve pain and soothing the muscles.
Your bath experience will be much more comfortable overall, and you will be able to rest peacefully in a comfortable and tranquil environment, easing away stress and negative energy.
---
Using and Maintaining Your Bath Pillow
To use your bath pillow and ensure your complete comfort and safety, I recommend that you carefully follow the given instruction manual.
Most bath pillows come with suction cups that hold them in place in your bathtub; you will; need to find the ideal spot to place your bath pillow and then press firmly on the suction cups to seal them tightly. Some bath pillow models come with a counterweight, which you can hang over the edge of the tub, ensuring that it stays in place.
Ensure you clean your bath pillow regularly to prevent the build-up of soap scum and mildew or mold. Wash it with anti-bacterial soap, and always allow your bath pillow to dry properly after washing or use.
---
Choosing a Bath Pillow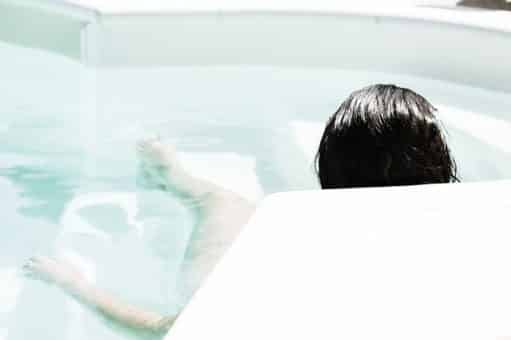 There are two factors to consider when choosing the best bath pillow, and they are DURABILITY, and USE.
Ensure that the materials used in your bath pillow are strong and durable and that they can withstand mildew and mold; the mesh is likewise a great option, as is a plastic waterproof cover that you can easily wipe down.
The shape and cushioning that the bath pillow offers to depend on precisely what you need. There are bath pillows available that cradle your neck and shoulders, as well as full-body pillows that provide light cushioning for your entire body.
---
Reviews: The Best Bath Pillows
We hope you love the products we recommend!
So that you know, We may collect a share of sales or other compensation from the links on this page.
---
---
---
---
---
---
---
---
---
---
---
---
---
---
In Conclusion
Don't we all love to spend a relaxing hour or two in the bathtub, filled with warm water, soaking in luxurious foam and bath salts? There is nothing compared to this when you need to relax and unwind from all the day's stress.
Therefore investing in good quality and durable bath pillow can ensure that you are guaranteed this enjoyable experience for many years to come!
---
Index Table: Top-Rated Bath Pillows
---
---