Some of the links in this post are affiliate links. This means if you click on the link and purchase the item, I will receive an affiliate commission at no extra cost to you. All opinions remain my own.
Antimicrobial tiles are something that you may not have heard of, but it does well exist. The antimicrobial Bath towel is a bath towel that consists of an antimicrobial natural fabric or material, or that is infused with silver ions, which resist bacteria, and microscopic organisms.
You may ask yourself, why do I need an antimicrobial bath towel? Well, for many of us who suffer from skin conditions such as acne, sensitive skin, and eczema, we may be looking for something more hygienic and less irritating to our skin. It is also a much healthier choice that will stay fresher for longer and not develop odors.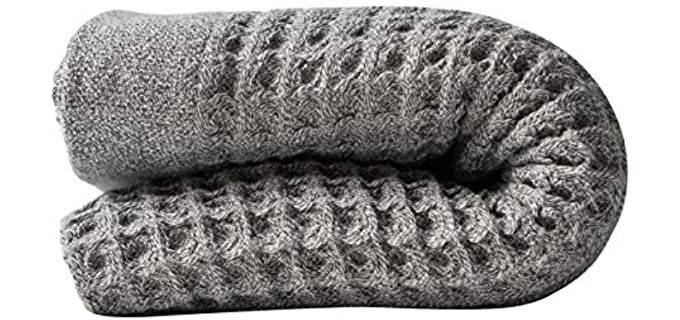 ---
Antimicrobial VS Antibacterial
So firstly, let us look at what is the difference between something that is antimicrobial and something antibacterial. Many times we tend to confuse the few with each other.
Anything antibacterial will destroy bacteria and suppress their growth and suppress their ability to reproduce. An antibacterial is a chemical that specifically kills bacteria cells.
On the other hand, something that is antimicrobial will destroy or inhibit the growth of microorganisms, especially pathogenic microorganisms. An antimicrobial treatment will inhibit the growth of microorganisms and kill these organisms outright.
So while an antibacterial product will prevent the development of bacteria an antimicrobial will kill bacteria and microorganisms.
So, which is better or more effective you ask? Well, an antimicrobial has its advantage, just as. The antibacterial has its advantages. Microbial are more effective against a wider spectrum of microbes, where. All anti-bacterial is just effective against bacteria.
---
Antimicrobial Towels
So let us look at what makes a towel antimicrobial;

Fabrics Naturally Antimicrobial – Firstly, you do get natural fabrics that are antimicrobial. Cotton is known to be antimicrobial, as well as silk. Bamboo is one of the best fabrics that you can use that is naturally antimicrobial and paste-resistant.
Silver Ions – One of the best methods to make it sound antimicrobial is to add silver ions to the weave of the towel. These silver ion threads are weaved in with cotton or bamboo, or whichever fabric the towel is made from, which then makes itself fully antimicrobial and odor resistant.
Chemical treatment – Sometimes the towels can be treated with a chemical agent, or sometimes they are infused with charcoal, which is also an anti-microbial agent that also helps to resist odors.
---
Features of a Good Antimicrobial Bath Towel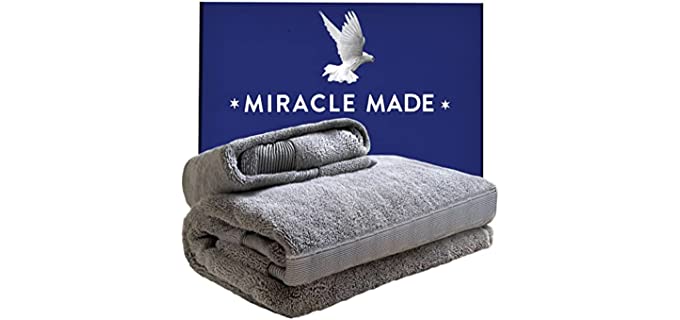 Materials – As you will see, most of the towels that we have featured consist of high-quality cotton or bamboo fabrics. They may also be some in synthetic fabrics. Most of the towels are infused, either with silver irons or with charcoal, which has antimicrobial properties.
Size – The towels are available in different sizes for this article. We look at specific bath tiles. You get your standard bath towel, and you get also get your larger bath sheets.
Colors – Luckily, most of the towels that we have included are available in quite a few colors. You will see some brands opt for more neutral colors, such as white, black, beige, and pastels. And then they are also brands that have more bright and colorful towel options.
---
Reviews: The Best Antimicrobial Bath Towels
In our review section, you will find some of our top favorite antimicrobial bath towels that genuinely work.
---
1
The Silvon premium antibacterial towel is ideal for acne-prone skin with silver-infused smart fabric that reduces odor and bacteria that can cause acne.
The towels are very soft and absorbent and they come in a lovely grey color.
There is natural silver weaved into the cotton towels, which makes them antibacterial and which makes them ideal for preventing odors.
The towels are durable and will stay fresher for longer and require less frequent washing.
---
2
The Mosobam antibacterial towels come in a set of four regular bath towels that are 30 inches by 58 inches.
The towns are made in Green methods and they are Oeko-Tex Certified.
The towels have a luxurious and thick design. They are absorbent, super plush, and fluffy, though they are also forced drying.
Because they are antimicrobial, they are ideal for acne-prone skin and they will stay fresher for longer.
The antimicrobial towels are ideal to use in the gym or at home or on the beach.
---
3
The Nutrl towels or completely odor free with their patented infused polygene treatment.
The towels are very lightweight and absorbent with a waffle design that is soft and comfortable.
The texture will offer slight exfoliation which is refreshing and a completely new drying experience.
The towels have a design that dries very fast and they will always stay fresh.
They have a modern design and they are available in neutral color options.
---
4
The Freshee towels or natural cotton have built-in odor protection and antimicrobial protection.
The protection treatment remains on the towel after every wash and even after every use.
You get a set of towels which includes 2 bath towels, two hand towels, and two washcloths.
The towels come in a solid white, crisp color that will suit any home they go beautifully.
---
5
The Miracle Made bath towel is a premium bath towel that consists of grown Supima cotton and that has natural silver fibers.
The town has premium technology with silver ions that have the natural power to reduce any odor-causing elements and neutralize odors.
The towels are soft and silky, delicate to the touch, and they are also fade-resistant.
They offer excellent antimicrobial protection and they are delicate on your skin.
The towels are soft fluffy and super absorbent as well as quick drying.
---
6
The Freshee towels offer full antimicrobial and odor protection.
The set includes 2 baths 2 hand towels and two washcloths.
The towels are plush and soft with very absorbent ring-spun combed cotton.
They have Built-in odor protection to eliminate smells and they are fully anti-bacterial.
The Towels come in a set of six towels with navy blue and white stripes.
---
Index Table: Top Rated Antimicrobial Bath Towels
---
---