Some of the links in this post are affiliate links. This means if you click on the link and purchase the item, I will receive an affiliate commission at no extra cost to you. All opinions remain my own.
The Heart-shaped pillow is a very popular decorative pillow that many couples and friends have exchanged as a gesture of love and caring.
The Heart-shaped pillow comes in many styles and designs but is mostly a decorative throw pillow that you can use in your bedroom, living room, or any other area.

---
Some Applications for Heart Shaped Pillows
Heart Shaped Pillows for Heart Patients – One of my favorite uses for a heart-shaped pillow that I have come across so far is for patients who have had heart surgeries or heart conditions. Open heart surgery can be a very serious but successful operation. However, it can make everyday actions such as sneezing, coughing, laughing, getting in and out of bed and even breathing quite uncomfortable after the surgery. It may take up to three months for the pain to go away, and you may need some support for this period. One of the best was in which patients could reduce the pain and comfort after open-heart surgery, using a heart-shaped pillow with a very firm fill to protect the incision site. The pressure helps to protect the incision site and also helps to reduce the pain. The pillow is held tightly when moving or coughing, making the pain more bearable.
Heart Shaped Pillows for Valentines Day – Another very popular use for heart-shaped pillows are as a gift for valentines day; when everything seems to be heart-shaped, why not get a heart-shaped pillow as a lovely gift. The Heart-shaped pillow is a forever gift that your loved one can hold on to.
Heart Shaped Pillows for Kids – Kids love shaped and fluffy little pillows. Thus, the heart-shaped pillow can easily spruce up their room and add to the décor. Especially for little girls, unicorn, fairy, and heart-shaped pillows combine to make up their fun, colorful bedrooms.
Heart Shaped Natural Pillows – You get heart-shaped pillows as gifts that consist of natural materials such as bamboo or cotton. Some may be knit or handcrafted as an exquisite vintage-style decorative gift.
Heart Shaped Pillows for Décor and Gifts – A heart-shaped pillow comes in many colors, designs, and textures, making for an ideal decorative pillow on your bed, couch, or any other area. The heart-shaped pillow is also the perfect gift for a loved one.
---
Heart Shaped Pillow Designs
As you will see from our review list, heart-shaped pillows come in various lovely colors and designs. Some embellished with flowers and sequins, some plush, and some even furry.
---
Features of a Good Heart Shaped Pillow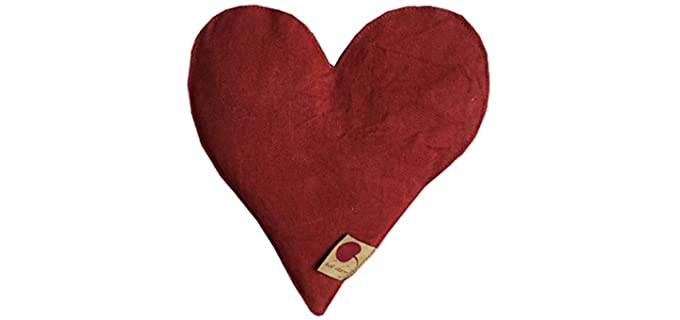 Materials – Our range of heart shaped pillows come in many material options. Some have natural cotton covers or bamboo, and natural fills. Then there are polyester or microfiber covers and fills, foam fills and plush or faux rabbit fur options, knit or woven option in acrylic.
Designs – The Heart shaped pillows come in many designs some have sequin or other embellishments, some are a plush finish, knit finish, smooth finish, or faux fur finish.
Sizes – The heart-shaped pillows are mostly throw pillow sizes, and different size options are available.
Colors – Most of the heart shaped pillow options that we have chosen do offer you a few color selections, from which you can choose, however they mostly come in red.
---
Reviews: The Best Heart Shaped Pillows
We have rounded up quite a variety of lively, quality heart-shaped pillows just for you;
---
1
---
2
The Demdaco Giving Heart pillow comes in a lovely Cranberry red color and is ten by 11 inches in size.
The pillow has a comfortable and fashionable design and is a decorative piece, making for the ideal gift.
The heart-shaped pillow is cotton and is the perfect red fuzzy heart-shaped pillow.
It consists of luxury cotton, polyester and nylon, and acrylic fibers with a knit design.
---
3
From JWH, we have the perfect handmade pillow cushions in a lovely heart shape.
They are decorative throw pillows ideal for your home or bedroom.
The throw pillows have a heart shape and come in many colors from which you can choose.
They are decorated with a 3D rose flower accented cover and plush fill.
You get one pillow cover and one pillow inserts with your purchase.
---
4
From Play Tailor, we have some fun decorative heart-shaped throw pillows.
They are available in turquoise, blue, and purple cover options.
The pillows are two-tone sequin pillows that you wipe to get a mermaid effect.
They are fun and decorative, ideal for a child or adult's bedroom.
The heart-shaped pillows ate 35 cm by 40 cm in size and are the perfect size as a throw pillow.
---
5
The Moyoama Heart pillow is a great gift for someone after heart surgery.
The pillow is specifically designed as a cough pillow or gift pillow for someone who had open-heart surgery.
The pillow has a heart shape and comes in a red or grey melange color option.
The firm stuffing gives you extra support to hold on to when you cough after surgery, to prevent pain.
It is a thoughtful gift for this specific purpose.
---
6
Here we have a four-piece valentines day heart pillow set from Queekay.
The pillows are 30 by 22 by 7 inches in size, and you get a set of four pillows with your purchase.
They are quality materials with soft fill and a PP cotton cover that is more resilient.
The pillows are versatile decorative heart-shaped pillows and make for the ideal gift.
---
7
The Yinggg store brings you their cute Plush red heart-shaped pillow.
It is part of an emoticon range consisting of the Red heart plush toy.
The Heart pillow is 31.5 cm, by 25.5 cm, by 8.1cm n size.
It is fashionable with a soft plush faux cover and fills.
The heart-shaped pillow comes in a bright red color.
---
8
The Hot cherry Heart-shaped Pillow us a red denim pillow that comes in a pie box.
The pillow is designed to be a gift and comes with a suitable gift box.
It is a Natural dyed 100% cotton denim cover with a therapy fill.
You can freeze on heat the pillow to use it on sore muscles and joints.
The pillow is microwaveable with moist therapy for heating.
It is machine washable, 100% natural, and fully sustainable.
---
Index Table: Top Rated Heart Shaped Pillows
---
---